Thousands of hailstorms occur in the U.S. each year, causing an average of $1 billion annually in damage, according to the National Oceanic and Atmospheric Administration (NOAA). For property owners in hail-prone areas, a home's roof cover acts as the first line of defense against more significant damage. 
In the U.S., roughly three out of four residential roofing systems are covered by asphalt shingles, which are statistically poor performers against elemental impacts. Asphalt shingles can also mask minor damage, making it hard for homeowners to detect and address quickly to stop progression. This can lead to more severe issues, such as shingle blow-off, water damage or mold exposure.
Traditionally, impact-resistant asphalt shingles have been touted as a more resilient option for property owners looking to mitigate the effects of elemental impacts; unfortunately, these products have been proven to fall short in real-world scenarios. Hail can cause cracks, dents and granular loss when impacting asphalt shingles, reducing the roof's ability to shed water and its overall lifespan.
Although traditional standardized roof testing, where metal balls are dropped from high distances, can provide researchers with an understanding of overall resilience, steel balls do not accurately replicate the material properties of real hailstones. 
In 2012, researchers at the Insurance Institute for Business & Home Safety (IBHS) launched a field research study with deployments having now continued annually for over a decade. The study's goal is to collect natural hailstones from across the country to measure their shape, hardness and compressive strength. They also use instruments called disdrometers to measure the velocity of hail impacts. Through this research, the non-profit has revolutionized asphalt shingle impact testing by creating the IBHS Impact Resistance Test Protocol for Asphalt Shingles, a method to assess how impact resistant shingles will perform against hail using lab-created hailstones that more accurately reflect those that occur naturally. 
This unique testing method differs from the traditional steel ball test in many ways. Normally, a 2-inch steel ball is dropped on a single shingle twice from 18 feet. This results in granule crushing but does not accurately represent the other forms of damage real hailstones cause. In contrast, the IBHS Impact Resistance Test Protocol for Asphalt Shingles uses laboratory-made, 2-inch hailstones with real-world properties. Impact-resistant shingles are bought from various building supply stores to ensure the tested batch realistically represents the quality of shingles available to consumers. The shingles are attached to a roof panel as normal, then researchers use compressed air at a high velocity to mimic the kinetic energy of natural hailstone impacts recorded during the hail field studies. Afterwards, researchers examine the shingles for damage and use various degrees of damage severity to rank each product.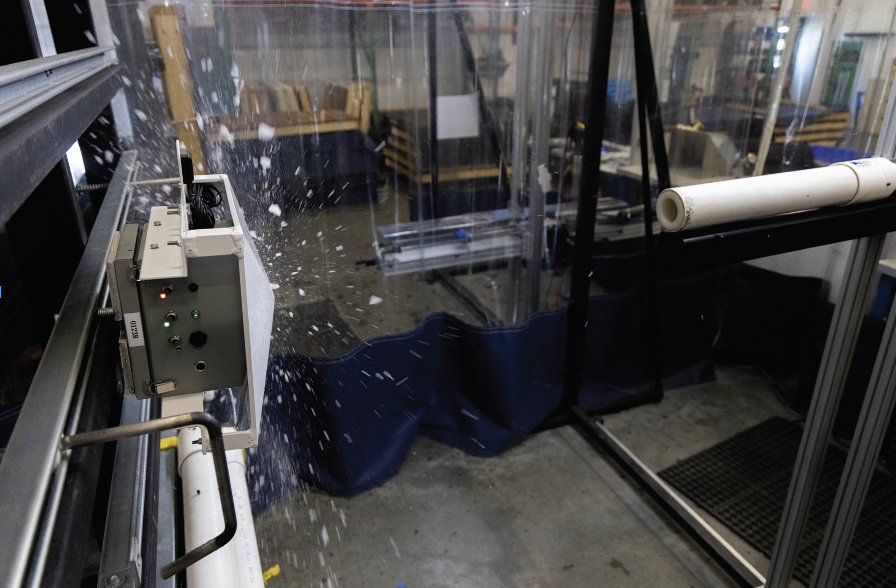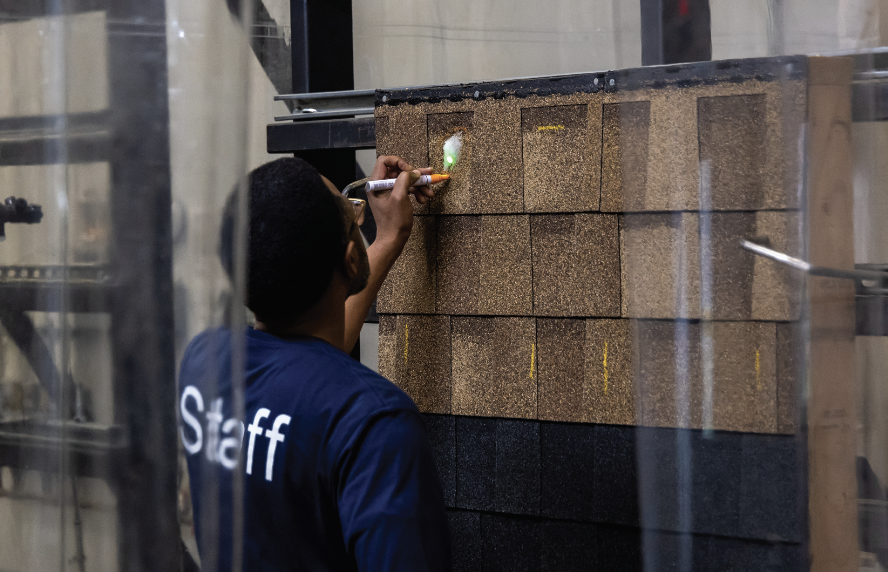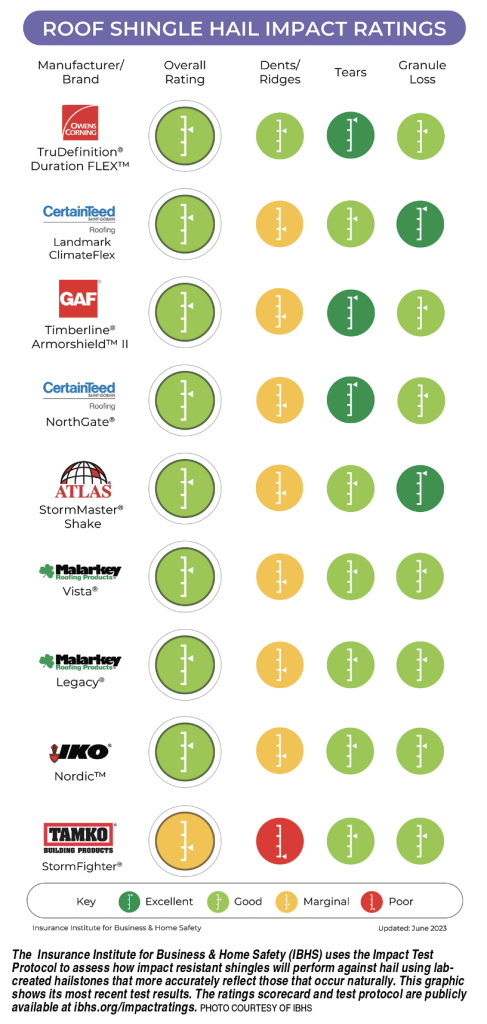 The IBHS Impact Resistance Test Protocol for Asphalt Shingles is the only impact testing method that identifies the three individual damage types caused by hail. Granule loss, dents and tears are common and can be caused by hail of any size. Granule loss refers to degradation of granules found on the external layer of the shingle, increasing the shingle's elemental exposure to ultraviolet rays. Dents are formed on impact and can be hard to detect. Damage caused by dents may not be immediate, but over time can lead to weakening of the shingle structure. Tears can lead to water intrusion into the home, and degradation over time, again shortening the lifespan of the roof and potentially leading to costly interior water damage. Differentiating these three damage types is essential to assessing the performance of impact-resistant shingles against hail.
Based on this new test method, IBHS released the first Impact-Resistant Shingle Performance Ratings in 2019. The scorecard is updated every two years comparing and rating the performance of all impact-resistant shingles currently on the market.
The IBHS Impact Resistance Test Protocol for Asphalt Shingles has transformed the impact-resistant shingle market since its development. In the past four years, nearly all oxidized scrim shingles have been removed from the market due to their continuous poor performance. Manufacturers have instead focused on making improvements to polymer-modified asphalt (PMA) impact-resistant shingles, which have been proven to better withstand hail damage. These market improvements are reflected in the research, as the 2023 scorecard shows an increase in tear damage durability. However, a noticeable decrease in the dents/ridges category shows there is still room for product improvement.
This research shows not all impact-resistant shingles are designed equally; differences in manufacturing methods lead to variations in performance and durability. The performance scorecard provides homeowners and insurers with information needed to make informed decisions and choose high-performing products. Severe weather is inevitable, but choosing impact-resistant shingles shown to perform better can mitigate a home's roof against damage.
The hail shingle rating scorecard also identifies which impact-resistant asphalt shingles qualify for the FORTIFIED Home™ — High Wind & Hail designation. FORTIFIED Home is a voluntary construction and re-roofing program designed to strengthen homes and commercial buildings against severe weather.
IBHS plans to expand its hail research, further identifying ways to increase roof system resilience. Researchers recently deployed to collect hailstones from different regions across the U.S., which were scanned and recorded to create 3D models capturing the unique structure of each hailstone. Back at the IBHS hail lab, scientists are developing hailstone prototypes modeled after these realistic 3D models of hailstones collected in the field to mimic naturally occurring hail even better. Researchers hope to use these irregular-shaped hailstone prototypes during future impact testing to compare results with the spherical stones currently made at the IBHS hail lab. This comparison will continue to advance the understanding of the hail vulnerability to asphalt shingles in the real world. l
About the Insurance Institute for Business & Home Safety (IBHS): The IBHS mission is to conduct objective, scientific research to identify and promote effective actions that strengthen homes, businesses and communities against natural disasters and other causes of loss. Learn more about IBHS at ibhs.org.