The Vail Mountain View Condos, a beautiful new residential development located in the coveted Vail Village, was built using energy efficient building products. It is the first major development in the village in over a decade. The luxury, multi-family building includes nine residences and six penthouses that range in price from $7.4 million to $9.6 million and are designed for the highest levels of energy efficiency, meeting industry-leading sustainability standards. This means the building has to manage the cold and heavy snow in winter and the heat and high-altitude sunshine of summer incredibly well.
Once the architecture, design and build team decided on their construction materials and plan, they faced multiple challenges during the project build. Because of permitting and other logistics, the roofing portion of construction had to begin in January 2021, during the height of the pandemic. The five-story residential building needed to be completed within a year and there was no time to delay the installation of the roofing system until spring. The team needed to be meticulous in the execution and the building materials had to meet the stringent requirements of the task. The roofing contractor, The Roofing Company, needed a manufacturer with great customer service, high-performing building products and a company that could deliver the products on time.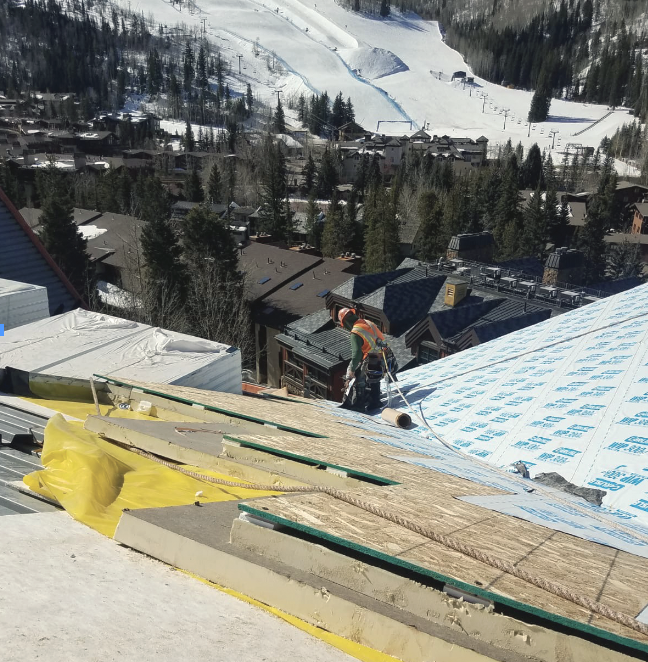 Energy-efficient Approach
All building products selected for the project were extremely important to meet the high-performance and energy efficiency needs of the harsh Vail climate. Atlas ACFoam CrossVent™ was selected as a critical part of the roof system for the performance benefits of combining a cross-ventilating air space, nailable roof substrate, and thermally efficient continuous insulation. It provided both insulation and above-deck ventilation for the roof.
"ACFoam, and especially ACFoam CrossVent, are our go-to products and Atlas is one of the only manufacturers we can depend on to get us their product when we need it," said Roofing Company president and owner Jeff Johnston. "We needed a solution that not only met an R-value of 20 on the roof but also provided a fully continuous insulation solution. We've always had success using the Atlas products, so it was a natural solution for this high-profile project."
More than 210 squares of Atlas ACFoam and ACFoam CrossVent were installed on the roof. Using a base layer of ACFoam under the ACFoam CrossVent insulation, with staggered joints, provided the desired higher R-value to mitigate undesirable heat loss, which is crucial in heavy snowfall climates like Vail, Colorado. Inadequate roof insulation and ventilation in a region like this can create major ice damming on roofs, which results in costly maintenance fees and/or expensive repairs down the road.
Safety was paramount for the installation crew and the greater Vail community during this winter project. As the crew members battled ice and snow during the extreme weather conditions, the team continued forward, even when it meant a total of 280 hours of shoveling snow from the roof. Also, because the project was a mere 100 feet from Interstate 70, there was zero tolerance for loose objects flying off the roof and potentially injuring workers or motorists on the highway. All material needed to be secured to the roof deck using a combination of webbing and metal wiring.
The ability to be able to vent properly is critical for the performance and longevity of any building project, but especially on a steep slope roof in this climate zone. In the end, a challenging installation was overcome, and the roof can easily handle everything Vail Mountain weather can throw at it in a low-maintenance, energy-efficient manner.
Completed in October 2021, this project was awarded the honor of 2021 Job of the Year by the Colorado Roofing Association.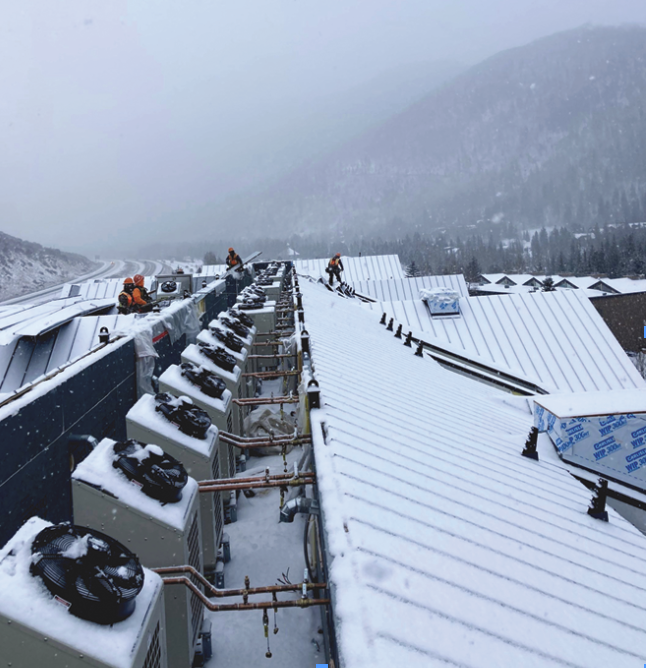 Project Overview
Project:
Vail Mountain View Condos
Size: 305 sq. total
Location:
East Vale, Colorado
Architect:
Oz Architecture, Denver
Installer:
The Roofing Company
Membrane Roofing
(60 sq.):
Georgia-Pacific DensDeck 1/2" roof board; Carlisle Insulbase 2.5" Polyiso; Carlisle 1/8" LF tapered Polyiso; Carlisle Sure-Weld TPO membrane & accessories in Gray; Roof Hatch
Vented Nailbase Metal Panel Roof
(210 sq.):
Georgia-Pacific DensDeck 1/2" roof board; Sterdo Wrap vapor barrier; Atlas AC Foam II 2 1/2" Polyiso rigid insulation; Atlas Cross Vent 4-1/8" nail base (5/8" OSB, 1" air space, 2 1/2" Polyiso); Carlisle WIP 300HT ice and water underlayment; CMG custom fabricated flashing and waterproofing for snow brackets; CMB fabricated and installed 24 ga. eave, rake, ridge, sidewall, headwall, receiver flashings; CMG 22 ga. factory painted snap-lock standing seam panels in Charcoal Gray; GAF Cobra Vent rolled ridge vent.
Snow & Ice Mitigation:
TRA-engineered & manufactured C2ZZ snow brackets with clamp-on pipe in Matte Black; KVA Ice Melt Rim System with Raychem 220V self-regulated heat cable installed on eaves.
Hot Applied Roofing:
Hydrotech Monolithic Membrane, 90 mil; Hydrotech FlexFlash F reinforcement sheet; Hydrotech Monolithic Membrane 120 mil; Hydrotech Flex Flash uncured neoprene; Hydroflex 30 protection sheet; Roof Stop Heavy Duty Barrier; Hydrodrain 700
Gutters / Downspout:
CMG 6" K-style gutter, Charcoal; CMG Box Gutters
Metal Wall Panels:
Metal Sales TL-17 Panel, Mystique Plus, 600 x 6' panels
Fasteners:
Include, but not limited to: Carlisle 8" fasteners,
Atlas 9" fasteners