The International Roofing Expo (IRE) returned to Dallas for its 2023 event. Held from March 7-9, show producer Informa Markets reports the show featured nearly 600 exhibitors that filled move than 175,000 square feet in the Expo Hall.
More than 14,000 roofing professionals attended over the course of the event. In addition to visiting exhibitors, they were able to take advantage of 45 educational and break-out sessions.
Attendees came from more than 47 countries, including Canada, Mexico, New Zealand, China, the United Kingdom, Brazil, and Germany.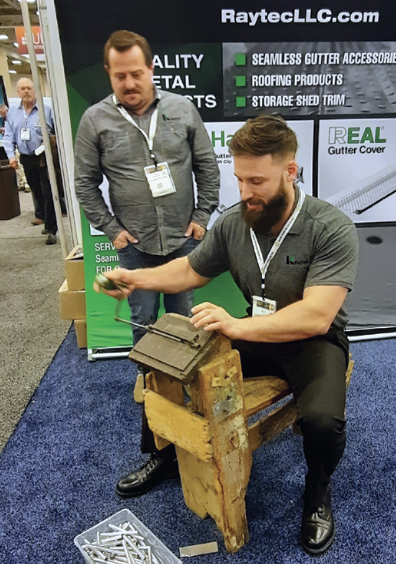 Exhibitor Reports
Direct Metals Inc. sells its products through a distributor network and used IRE Dallas to promote its products and point contractors to a stocking distributor from whom they can buy. DMI's David Quehl reports: "Attendee optimism and enthusiasm were on display at the IRE. Large crowds filled the exhibit hall all three days and the after-effects of the COVID pandemic were in the rear-view mirror. While not every market is setting records, the message from the majority of attendees at the DMI booth is that there is still strength in the roofing market and many expected another strong year. Supply chains have improved, but there are still shortages in some industries. DMI is fully prepared for a strong year with an excellent supply of both DEKZIP and PANCLIP."
Jeff Regan reports that Hicks Lightning Protection and Harger Lightning & Grounding were the only two lightning protection companies represented at the show. "Lightning protection, when applied goes hand in hand with roofing materials and installation. It is always good to know what new types of new roofing materials are in the future as well as new challenges, such as solar roofs that are incorporated into the roofing material for a better aesthetic look and energy output. These are certainly things to come and new challenges for installers of both roofing contractors and lightning protection installers. 
"The IRE Show and Expo lets us get to these roofing manufacturers to work together and come up with solutions for both companies to better benefit the property owner," Regan continues. "We certainly learn a lot from attending this show and are able to educate the contractors and the roofing contractors as well."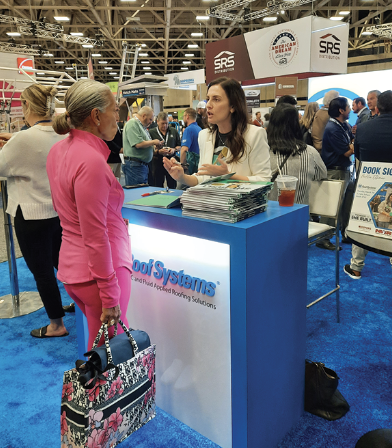 Westlake Royal Roofing reports: "This year's IRE in Dallas was a huge success for us at Westlake Royal Roofing Solutions™. This show always offers a great opportunity to make connections with both contractors and builders – and this year was no different."
When asked about their impressions of the roofing industry (trends/market demands, interest, vitality, innovations, etc.), they responded: "With an increasing focus on weather and storm resiliency, the industry is looking for code compliance relative to regional climate conditions as well as insurance criteria surrounding product performance. These currently vary from market-to-market. Additionally, the construction industry is still facing a significant labor shortage and residual supply chain issues, which in turn affects the roofing sector. There is great concern about the state of the economy with current inflation and rising interest rates. Many consumers are being priced out of the for-sale housing market, while others are simply holding onto their homes for a longer period of time. We plan to keep a close eye on how these changes continue to affect the building industry."
Mark Strait, Kirsch Building Products (maker of Sharkskin underlayments), reports he met with new and potential customers as well as current customers. "It's always nice to get to meet customers who genuinely support the products we bring to market," he says. 
He, too, has noticed a growing trend in the roofing industry: "Long-term roofing products (ROI), along with energy savings materials and systems that provide a GREEN, LEEDS and RECYCLABLE, advantage continue to gain ground."
What's New
One of the most exciting benefits of attending a trade show is experiencing newly introduced products first-hand. Here are a few of the products introduced at the March 2023 event:
Atlas Pinnacle Impact Shingles
Atlas Roofing Corporation announced the addition of Pinnacle® Impact shingles. Pinnacle® Impact features 3M™ Smog-reducing granule technology, 3M™ Scotchgard™ Protector, HP42® technology, and a Class 4 impact rating.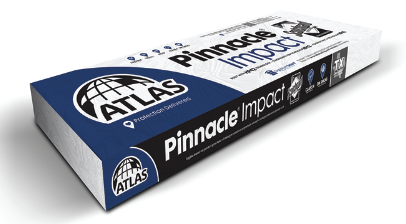 Pinnacle® Impact shingles are manufactured with special polymers that give them a UL 2218 Class 4 impact rating — the highest rating for impact resistance in asphalt shingles. The unique polymer blend allows for reduced energy usage and emissions during the manufacturing process, as well as gives the shingle greater resilience against the damaging impact of hail.
CertainTeed Solar Shingles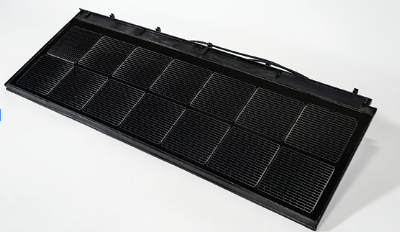 CertainTeed debuted its Solstice Shingle at the Dallas event. The shingles, which carry a 25-year warranty, feature high efficiency solar shingles that integrate with any asphalt shingle. The company reports Solstice Shingles produce about as much energy as a conventional, rack-mounted system, offering clean energy without the bulky look. 
The 70"-wide panels create a watertight system and are designed for roofing crews to install.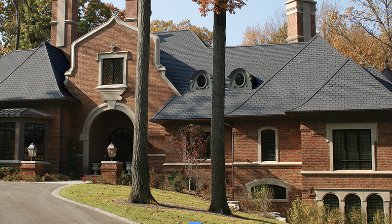 DaVinci Inspire® Classic Slate
For the first time, DaVinci, a Westlake company, had on display its Inspire® Classic Slate, a polypropylene base of product recently acquired by the company. Different than all other DaVinci products (which are injection molded and 5/8" thick), Inspire Slate solid tiles are compression-molded replicating natural slate, with a thin, quarter-inch profile, giving the appearance of a weather-worn slate.
Lightweight yet durable, it is Class 4 impact rated and 110 mph wind uplift rated and is backed by a 50-year Limited Lifetime Warranty.
DEKZIP by Direct Metals, Inc.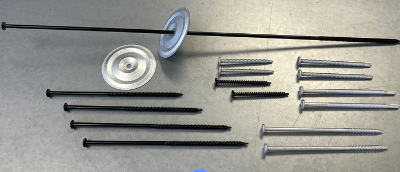 Direct Metals, Inc. introduced the new DEKZIP commercial roofing screws, plates and termination bar for low-slope single ply and built-up roof systems. Quehl explains, "The DEKZIP is a DMI exclusive designed and manufactured to meet today's exacting standards for quality and performance. Drill point quality, thread design and corrosion resistance are key features. The DEKZIP will complement the popular PANCLIP Pancake & Wafer head fastener line used with panel clips in standing seam metal roof applications. The same exacting details go into the design and manufacture of the PANCLIP as the DEKZIP. Product depth is extensive and many parts have passed rigorous Dade County, Florida requirements for use in that state."
Elevate Jet Bond PVC Spray Adhesive
Elevate announced that Jet Bond PVC spray adhesive is launching for PVC commercial roofing. Jet Bond Spray Adhesive is an LVOC bonding adhesive packaged in portable, pressurized canisters and formulated for two-sided spray application directly from the canister. Each cannister may cover up to 750 sq. ft. (7.5 completed squares).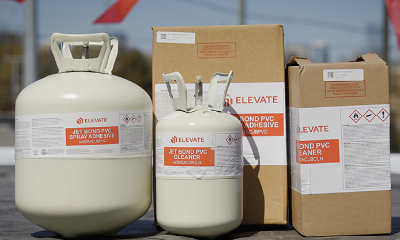 The low VOC formulation is compliant across the U.S., including South Coast Air Quality Management Districts, and all Canadian Provinces.
FM Very Severe Hail (VSH) ratings may be achieved (with approved assemblies) when using Jet Bond PVC in combination with Elevate PVC (.080) membrane and DensDeck® StormX™ cover board.
GAF Timberline® UHDZ™ Shingles
GAF Timberline® UHDZ shingles were on display for a national audience for the first time at the 2023 International Roofing Expo. In addition to GAF's patent-pending Dual Shadow Line, which creates sunset shadows all day long, all Timberline UHDZ shingles now include features like LayerLock™ technology and the StrikeZone® nailing area, making them easier and faster to install.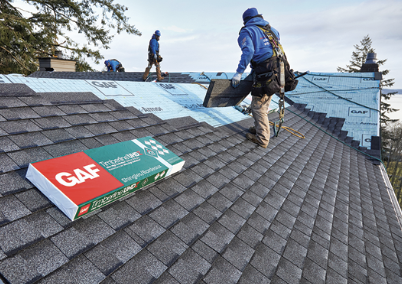 This new premium laminate shingle feature:
• A thicker, and about 20% heavier, design compared to Timberline® HDZ™ shingles
• 10% more Time-Release Algae-Fighting technology
• A new 30-Year StainGuard Plus PRO™ Algae Protection Limited Warranty against blue-green algae discoloration
• A variety of color options to enhance the aesthetics of any home including Charcoal, Weathered Wood, Pewter Gray, Barkwood, Slate, and Shakewood.
Timberline UHDZ shingles are eligible for the WindProven™ Limited Wind Warranty when installed with the required combination of four qualifying GAF accessories.
Titanium Fire-rated Underlayment by Owens Corning
Titanium® FR High Temp and Fire Resistant Self-Adhered Underlayment is designed to provide the Class A fire resistance typically required for roofing assemblies installed in wildland urban interface (WUI) areas.
As the highest classification for fire resistance in roofs per ASTM E108 or UL 790 fire testing, Class A indicates the material as "effective against severe fire exposure." In WUI areas and other environments presenting a high risk for fire, a Class A roof is required by codes to help prevent the spread of external structure fires. Wildfires have remained a persistent hazard in many regions of the U.S. in recent years.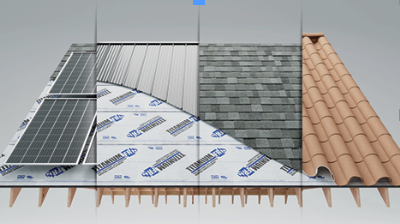 Proprietary technology in Titanium® FR is designed to mitigate the risk of fire spread to the roof deck under metal, tile, or asphalt roof coverings. The classification is particularly important for metal roof systems as most metal roof products cannot meet Class A fire resistance without either a special fire-retardant underlayment or installation of gypsum panels over the roof sheathing.
This new underlayment offering from Owens Corning also supports fire safety in energy generating roof assemblies. As roof-mounted solar panels are often located in WUI areas and are subject to harsh conditions, Titanium® FR provides a Class A fire resistant underlayment that delivers fire resistance and is designed for leak protection under BAPV solar panels. Roof assemblies equipped with mounted photovoltaic (PV) panels are evaluated to assess the ability of the entire assembly to protect a structure's interior from fire. Unfortunately, most roof-mounted solar panels only meet the requirements for Class C, designating "effective against light fire exposure." Titanium® FR High Temp and Fire Resistant Self-Adhered Underlayment achieves Class A fire resistance for roof assemblies that include solar panels, even if the panels alone are Class C. 
RFID Microchip Tags in Malarkey Shingles
Malarkey Roofing Products®, member of Holcim Building Envelope, announced the addition of Radio Frequency Identification (RFID) tags to their shingle lines.
Nancy Teague, Vice President of Engineering, explains, "RFID tracking on our products has many obvious benefits for the logistics and production at Malarkey Roofing Products. They will help us continue to streamline our operations and support customers in the near term. Looking further, the ability to track the lifecycle of our products not only validates our superior quality and performance value proposition, but also greatly advances our efforts in circular roofing."
RFID tags are small microchips commonly used in modern hotel room keys or anti-theft devices at clothing stores. RFID tags can be read by a device even if it is covered by the object or not visible. Additionally, the tags can be read while inside of a container, quickly providing information in bulk, rather than one at a time.
Only shingles and shingle bundles from Malarkey's Oklahoma City plant are rolling out with RFID currently, with Portland and South Gate facilities soon to follow.
Metal Benders by Malco Products, SBC
Malco Products, SBC, introduced its new professional-grade metal benders at IRE. Metal Benders by Malco have the ability to form 0°-100° bends on straight or curved panels of any length right on the jobsite.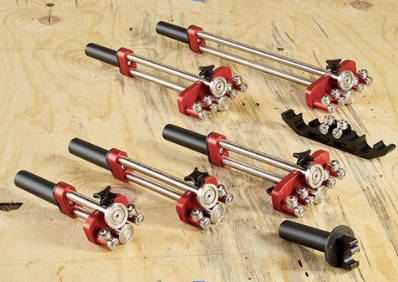 Narrow bearing stance models follow curved panels easily or form straight bends when needed, and wide bearing stance models provide more control for straighter bends. Both variations may be paired with a connector for a modular experience, allowing trade pros to "freestyle" their set-up, in a one or two station configuration.
Additionally, the metal benders allow for easy configuration and flexibility on the jobsite by allowing the user to adjust the rollers for different thicknesses and materials, and they can also be customized by replacing the angled roller with an optional 2mm radius roller to allow for "softer" bends for materials like copper, zinc, and aluminum, which can have problems with tighter bends.
S-5! SnoBracket™
S-5! introduced its SnoBracket™ attachment for mounting snow retention systems to insulated metal panel (IMP) roofs.
The new SnoBracket is specially designed to provide the strength required for snow retention applications but with "sheet-only" attachments. Created specifically for trapezoidal-ribbed IMPs, it comes in two sizes: SnoBracket™ TB and SnoBracket™ RB fitting to popular rib profile dimensioning.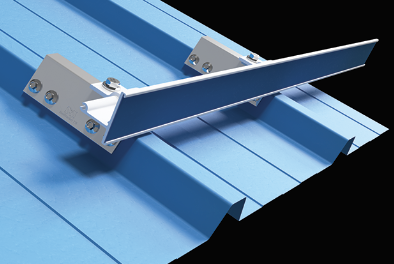 Designed to protect an IMP's moisture barrier, without the compromise of thermal bridging the SnoBracket features a factory-applied, premium, closed-cell EPDM rubber gasket, creating a positive seal against water intrusion and attaches in-shear using eight self-piercing fasteners (four on each side), resulting in the holding capacity of more than 2,000 pounds in 26ga coated steel.
Conclusion
"The International Roofing Expo is the destination for roofing contractors, suppliers and industry professionals to gather to drive the industry forward," says Rich Russo, Show Director, International Roofing Expo. "This year's expo solidified the importance of face-to-face connection with highly engaged and at capacity networking and education events, reflecting the need for hands-on learning. IRE continues to provide resources for roofing professionals nationally and internationally with nearly 50 countries represented. We look forward to continuing to see the growth of the industry and innovation and providing the most up to date information and trainings to the roofing community throughout the year, online at our ConstructioNext platform and at our 2024 event."