By Linda Schmid
Did you ever think, "We have too much inventory lying around; we should open a store?" Sock Woodruff did. He was taking over a contracting business from his father who had been buying supplies in bulk. Lots of supplies. Woodruff decided to sell the excess to contractors.
That was 1991 and Gutter Supply was begun. In 2001, Sock's best friend, Mike Milliman joined as a partner/owner. Milliman had previous experience with the internet and ecommerce, and immediately saw the potential of an ecommerce Gutter Supply Store. At the time, gutter components online were few and far between. Guttersupply.com launched in 2004.
Growing Into Their Niche
"Gutters can be tricky to ship," Milliman said, "especially customized gutter orders that are cut to size and can be shipped in lengths up to 20 feet. We felt it was important for the customer to be able to purchase a full customized order online and be able to checkout without having to call or email us to get a final cost (with freight and crating). We created an algorithm that allows the site to crate and ship our products and provide a landed cost so our customers know exactly what the total order will be before they purchase."
Milliman admits that trying to build a customer base was challenging at first; shopping on the world wide web was comparatively new at that time, especially for building supplies, a market that is known to be traditional. And of course, they have many well established competitors, from big box stores to local hardware stores.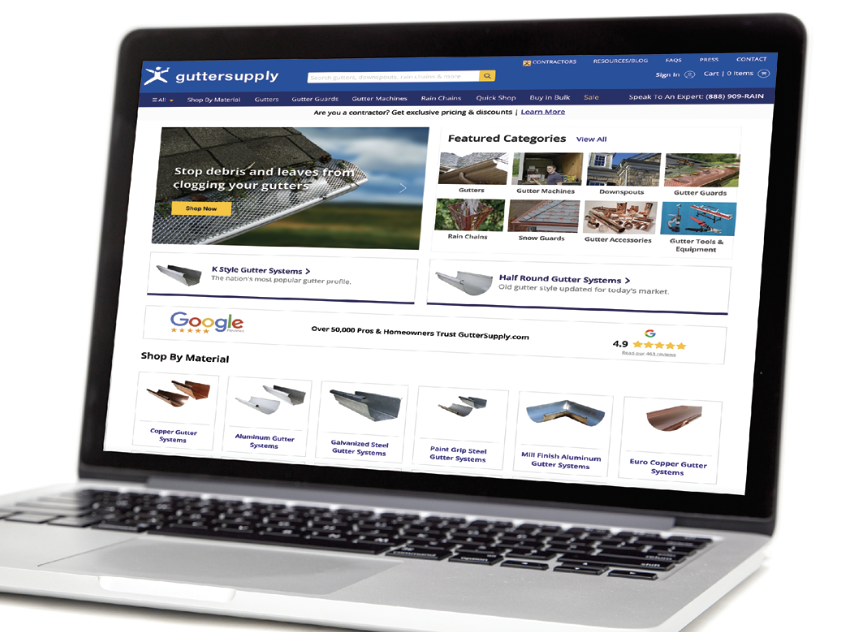 However, little by little, the word got out that ordering online with Gutter Supply was safe and convenient; a contractor could get everything they needed and the components were competitively priced.
Another piece of the service that helped the website grow is that customers can pay with a credit card or their established contractor credit account. If they do not have an account, they can apply for one on the website. After credit approval, they are good to go with a line of credit and they will enjoy specialized contractor pricing.
The website did so well that the company ended up going fully e-commerce, with the exception of a facility that provides supplies for local contractors in Mundelein, Illinois.
Developing a Product Line
The mission is to have everything a contractor needs for their gutter business. They carry eight different metal gutter systems with all of the accessories to match. One of their most popular product lines is their gutter roll-forming machines. That is not the end of the story, though, as they are always researching products, picking up new or improved products, and dropping lower performing products.
Offerings are constantly expanding, and the company just moved into a new facility with three-to-four times the stock capabilities they had before. "Our goal is to have everything in stock, all the time," Milliman said.
Focusing On the customer
Milliman believes that the attribute that makes them stand out in their field is that they are very customer service oriented, something that he says is unusual in an online company.
"Have you ever tried to call one of the big online retailers? It's hard enough just to find the phone number, let alone be connected to someone that has experience in what you do. Our entire sales team has previously worked in the field and understands the contractor's needs," he said.
Traversing Troubled Times
Like pretty much everyone, management was pretty worried at the outset of the COVID-19 pandemic, projecting losses of 30-80%. There were so many unknowns; were they going to have to send people home? Could they work remotely? Would they be able to service their customers?
Most of their employees wanted to come in to work, Milliman said, a testament to their work ethic and customer care. The company had to be flexible and make adjustments in order to accommodate city rules (they are located near Chicago), but from the industry standpoint, some good things came out of the situation.
"People were at home, looking around at their environments and many decided to fix up their homes. Lots of communities were shut down for a period of time, so being an ecommerce business was a big advantage," Milliman said.
People visited the website and business boomed.
Supply chain issues were more difficult to compensate for. However, the management team took the stance that the best way to deal with it was to stay in constant communication with customers. "Customer service, customer service, customer service," they stressed to their people.
"During that time, a 10-week lead time was not unusual on certain products," Milliman said. "Everyone was in the same boat, so the best thing to do was keep our customers up to date on what was happening."
Forecasting the Future
Customer service, competitive pricing, and quality products is the foundation the company is built upon. Milliman believes that continually increasing value to their contractor customers is key to continued growth.
The company is continually looking for ways to use technology to make customers' jobs easier. Recently they added a Quick Shop function that displays all of the products for a particular job (5" K Style Almond Aluminum for example) on one page. Allowing the customer to see all of the components needed and just enter in the quantities needed for each part and add it all to the cart with just one click. "Basically, we create the specific material list for our customers. It makes ordering faster and prevents missing any critical parts for the job."
Constantly striving for an improved site, process, product line, and service is Gutter Supply's blueprint for future success.