By Brad Van Dam & Tim Harger
A single bolt of lightning can produce anywhere from 100 million to 1 billion volts and contains billions of watts of power according to National Geographic. According to the Insurance Information Institute, US insurance companies paid over $950 million in lightning-related claims to some 62,000 policy holders in 2022 alone.
"Up to 5% of all commercial insurance claims involve lightning, said Bret Peifer, president of Mr. Lightning of Colorado Springs, Colorado, and member of the board of directors for the Lightning Protection Institute (LPI). "But lightning damage is reliably preventable. A properly designed, installed, inspected, and certified lightning protection and grounding system can virtually mitigate this risk to policyholders and the public."
Lightning Protection Systems and Components
According to the National Fire Protection Association (NFPA), there are five fundamental components of a lightning protection system (LPS), including:
1. Air Terminals or Strike Termination Devices. Formally known as lightning rods, strike termination devices are installed on high points of a structure to intercept lightning before it hits the building and leads the electrical charge to the ground.
2. Cable Conductors. Heavy-duty metal cables used to connect the air terminals to provide a path for the lightning current to follow to the below-grade grounding electrode system.
3. Bonding Connections. Bonding connects the LPS to other internally grounded metallic systems on the roof, such as air conditioning units, vent stacks, and other components, to create a path for the lightning current.
4. Grounding Electrodes. Electrodes are typically 10-foot-long copper-clad steel rods, connected to the conductors and driven into the ground at multiple points around the building.
5. Surge-Protection Devices. Wherever power or signal wires enter a building, surge protection devices specifically configured for lightning are installed.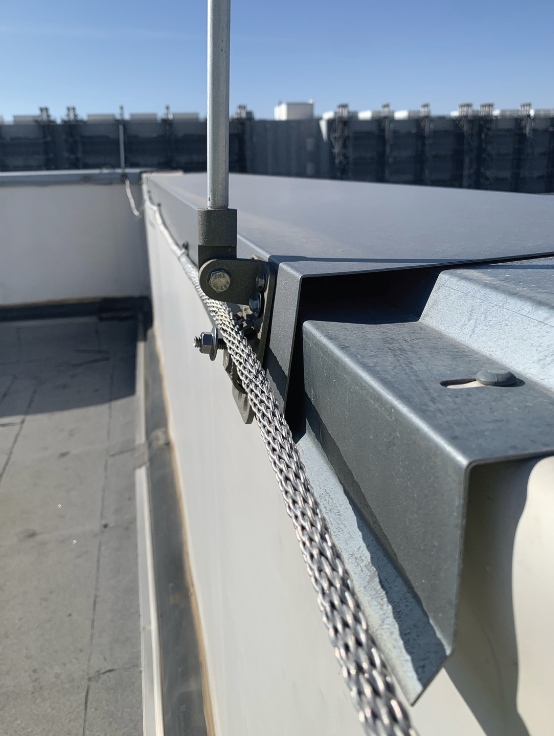 An LPS should always be installed, inspected, and certified by a certified professional and the installed system should meet the standards outlined in NFPA 780 Standard for the Installation of Lightning Protection Systems or in UL 96A Installation Requirements for Lightning Protection Systems.
Updated Code Language
The International Building Code (IBC) is updated in multiple phases, based on annual review cycles. In 2021, updates were made to Chapter 27, to include language referencing the industry's two standards — NFPA 780 and UL 96A.
Neither the updated language, nor the referenced standards, address how LPS should be specially secured to existing roofing components. This led SPRI, Inc., the trade association representing the manufacturers of single-ply roofing systems and the related component materials, to take action to clarify how LPS components should be secured to edge metal and other roofing components. The specific wording added to Section 2703 for the 2024 IBC, under Lightning Protection Systems, reads as follows:
Section 2703 Lightning Protection Systems
2703.2 Installation. Lightning protection systems shall be installed in accordance with NFPA 780 or UL 96A. UL 96A shall not be utilized for buildings used for the production, handling, or storage of ammunition, explosives, flammable liquids or gases, and other explosive ingredients including dust.
2703.3 Interconnection of systems. All lightning protection systems on a building or structure shall be interconnected in accordance with NFPA 780 or UL 96A, as applicable.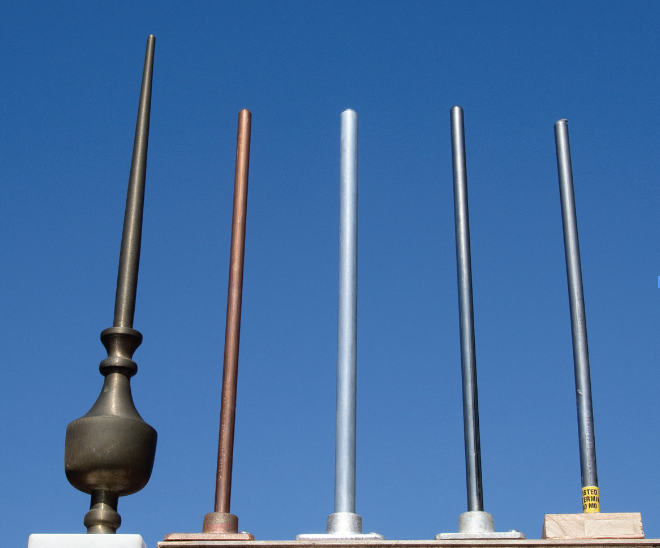 Roofing Industry Concerns & Current Code Language
"The new code specifically references NFPA 780 and UL 96A," said Amanda Hickman, president of The Hickman Group, a code consulting firm based in Plantation, Florida, representing SPRI, Inc. "This is the first time that those two industry standards are specifically mentioned, but neither address the impact that attaching lightning protection systems to the roof system may have on the tested components of the roof assembly, including the edge metal, roof membrane, and more."
In low slope commercial roofing, the edge metal system also serves as the roof's first line of defense when it comes to severe weather. Estimates from insurance carriers including Factory Mutual (FM) indicate that the failure of roof perimeters represents nearly 59% of roofing system failures in high wind events. Furthermore, edge metal components are required by code to be tested to resist specific wind loads. As such, there is a concern in the roofing community that an LPS may alter the wind load or system performance of the edge metal system.
"It is important that when lightning protection systems are used, they are installed with guidance from the roofing system or edge system manufacturer, to preserve the building envelope in a wind or weather event," said Hickman. "It's critical that these components maintain their integrity when lightning protection systems are installed.
"Furthermore, the new wording is focused on installing lightning protection, but there was nothing about maintaining or protecting the integrity of the roofing system, which is covered in Chapter 15 and a critical consideration in the process," said Hickman.
Code updates go through a series of review steps, including a Committee Action Hearing. Approval of a proposed change during a Committee Action Hearing is based on a simple majority vote by the Technical Committee.
At a hearing in April 2022, and to the surprise of the SPRI representatives there, several from the lightning industry spoke out against the proposed new language from SPRI. In the end, the ICC Technical Committee disapproved the proposed language in a resounding 13 to 1 vote.
There were several problems with the proposed language from the lightning industry's perspective. According to UL and NFPA standards, lightning protection must be installed around the outmost perimeter of a structure, fastened every 3 feet, and installed within 2 feet of the building's perimeter. The wording from the updated language was in direct conflict with the standards:
1. Lightning Rods are required to be within 2 feet of the outside corner. Not allowing the Lightning Protection industry to attach to the coping, would make this impossible.
2. Lightning Rods are required to be installed around the perimeter at 20-foot intervals, not just the corners. Depending on the coping width, every lightning rod could be affected.
3. Lightning Protection conductors are required to be fastened every 3 feet maximum. Fastening below the coping, puts a ton of holes in the membrane. If we use brackets, that is a ton of brackets which could be problematic when coordinating the exact layout, timing, warranty, etc.
"We were surprised by that hearing," said Hickman. "We had worked with several from the lightning industry and believed that everyone was on the same page, perhaps without recognizing the potential negative impact that the new wording would have on their industry."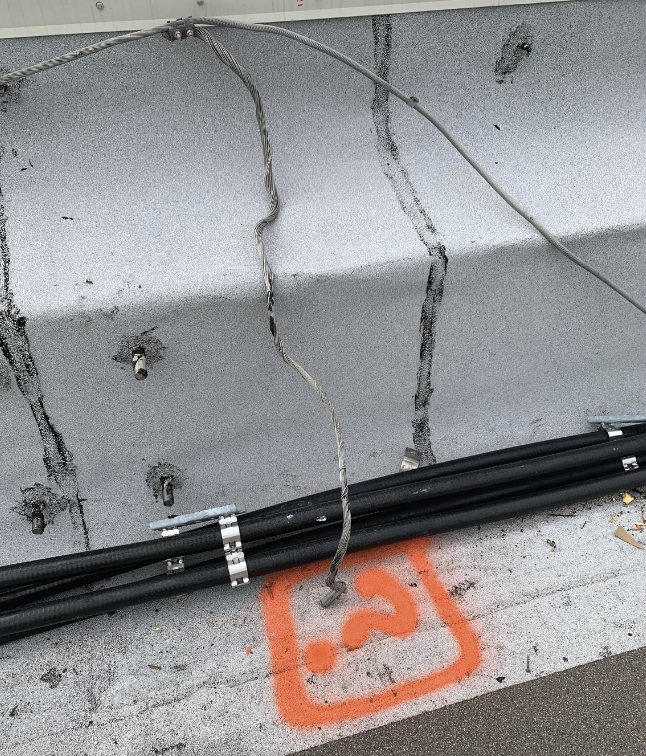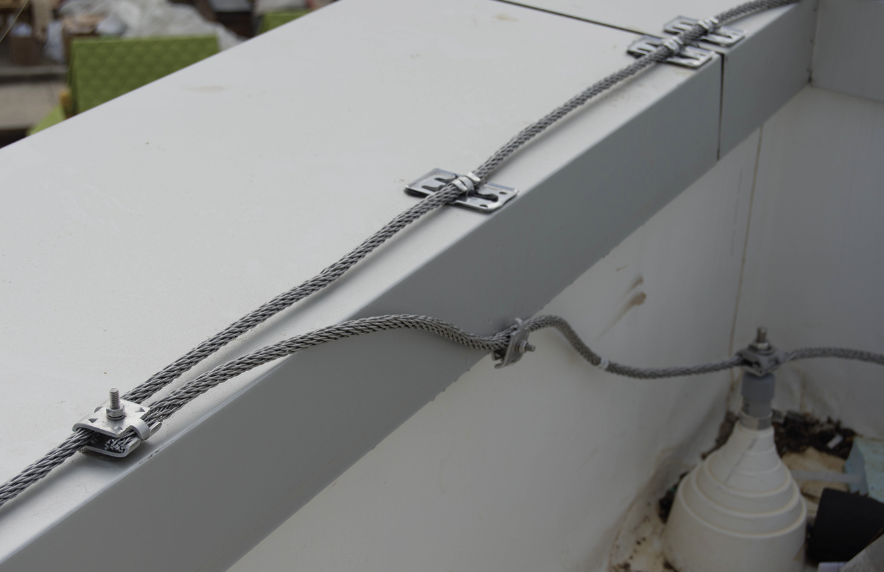 Consensus Building
The next step was to develop new language and submit it for 'public comment.' During the next several months, SPRI reached out to several organizations including UL Solutions, LPI, the United Lightning Protection Association (ULPA), the Asphalt Roofing Manufacturers Association (ARMA), the National Roofing Contractors Association (NRCA), the National Electrical Manufacturers Association (NEMA), the Roof Coating Manufacturers Association (RCMA), and others to build consensus for acceptable new language.
Eventually, new language was submitted for public comment, and in the Fall of 2022, ICC held Public Comment Hearings and that language was approved by two-thirds of the ICC Governmental Voting Membership and ratified via a subsequent online vote.
"This is a significant update to the code," said Hickman. "We worked very hard with both the roofing and lightning protection industries to develop language that everyone could agree on. A key part of the language allows registered design professionals to direct the installation of lightning protection equipment when the roofing or edge system manufacture cannot be identified."
2024 Code Language
The new language, which will be added as new sub-sections in Section 1511 'Rooftop Structures,' reads as follows:
1511.7.6.1 Installation on metal edge systems or gutters. Lightning protection system components attached to ANSI/SPRI/FM 4435/ES-1 or ANSI/SPRI GT-1 tested metal edge systems or gutters shall be installed with compatible brackets, fasteners, or adhesives, in accordance with the metal edge systems or gutter manufacturer's installation instructions. When metal edge system or gutter manufacturer is unknown, installation shall be directed by a registered design professional.
1511.7.6.2 Installation of roof coverings. Lightning protection system components directly attached to or through the roof covering shall be installed in accordance with this chapter and the roof covering manufacturer's installation instructions. Flashing shall be installed in accordance with the roof assembly manufacturer's installation instructions and Sections 1503.2 and 1507 where the lightning protection system installation results in a penetration through the roof covering. When the roof covering manufacturer is unknown, installation shall be as directed by a registered design professional.
"In the end, working with SPRI, UL and others was critically important. We all had different perspectives and concerns that had to be addressed," said Peifer. "In true consensus building, no one is ever 100% happy with the outcome, and I think that's what happened here. But we worked together to get to wording that everyone can live with."
The 2024 IBC will be published in late 2023 and will be available for adoption by individual jurisdictions beginning in 2024. Moving forward, manufacturers of edge metal systems and roofing materials will need to work with the lightning protection industry to provide clear installation instructions for this equipment, in conjunction with the roofing system.