By Nearmap AI
Nearmap, a location intelligence and aerial imagery solutions provider, released a first-of-its-kind report in May: America's Top 25 Leafiest Capital Cities via Nearmap AI, highlighting the country's Top 25 leafiest capital cities. Compiled through its proprietary aerial imagery technology and coupled with location data from its Nearmap AI platform, this is the first and only research of its kind in the U.S. using a high-resolution data set to compare total residential tree cover across capital cities for insurers, commercial construction companies and governments.
Dr. Michael Bewley, Vice President of AI and Computer Vision at Nearmap, explains: "Residential areas with increased trees overhanging gutters and roofs will inevitably lead to more leaves collecting in those areas. If this occurs, it can potentially cause water damage to the walls, roof and even foundation of a home, as rain water within the leaves can eventually seep through cracks or crevices, causing damage. Therefore, this data around leafy areas can help residents and roofing professionals alike understand how the amount of overhang at their property address can affect their properties' well-being, and plan roofing maintenance schedules based around that."
The report identified the top 25 leafiest capital cities and their percentage of total residential tree coverage as shown in the table.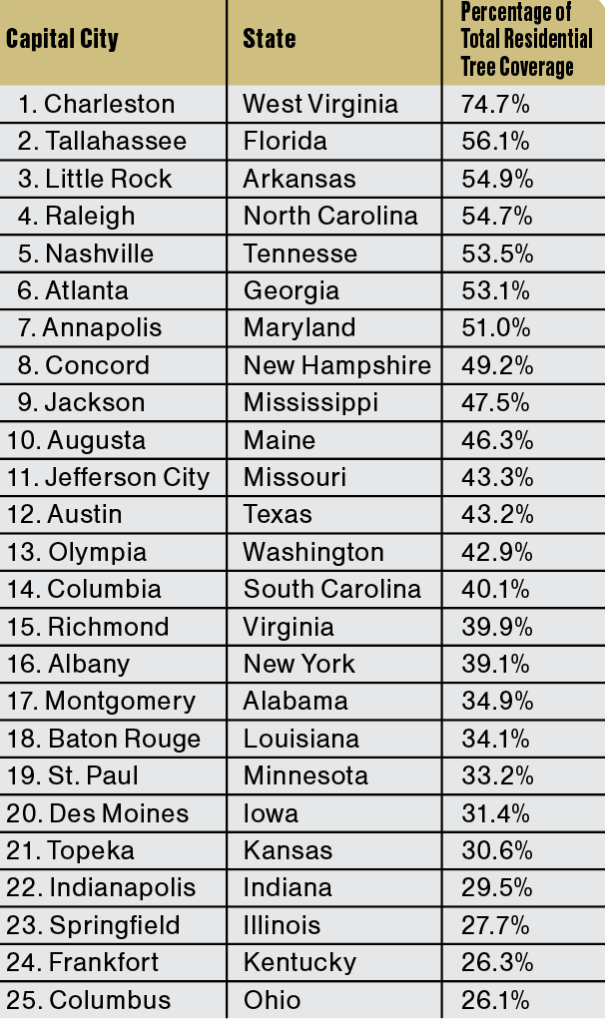 Tony Agresta, Executive Vice President and General Manager of North America at Nearmap, said: "The volume of tree cover can have a significant impact on public health and safety, from preventing overheating, improving environmental health, and mental and physical health benefits. Beyond that, the insights gleaned from this data can be used by insurers, construction companies and local governments to create tangible change in their communities, in addition to tracking progress in the creation of greener cities, reducing natural disaster risk and progressing urban development."
According to the Centers for Disease Control and Prevention, an average of 702 heat-related deaths occurred in the U.S. annually between 2004-2018. Urban heat islands can also create issues such as higher daytime temperatures, reduced nighttime cooling, poor air and water quality and increased demand for energy resources that can result in rolling blackouts.
Dr. Bewley added: "Data of this detail and consistency has never been possible on such a national scale before. Our Nearmap AI platform uses machine learning to turn high-resolution aerial imagery into information and insights, creating a proprietary dataset that our customers use as a source of truth to make our communities more sustainable, resilient, safe and appealing to residents. The fact that it can be used to make comparisons between current and historical captures is critical. It means that we can help not just to map cities, but actively monitor their change, and to help them quantitatively assess the impact of things like a change in policy, a natural disaster or a shifting climate."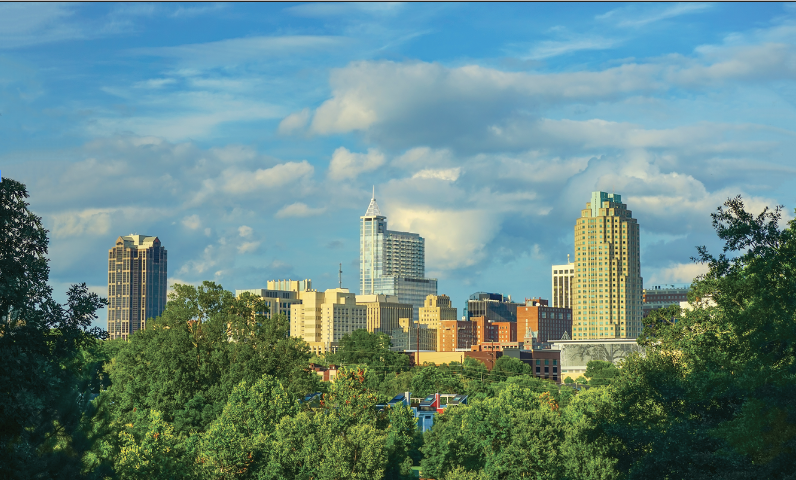 Nearmap surveys more than 100 million locations in the United States up to three times per year, making it easy for local governments, insurers and construction companies to continuously unlock AI insights needed to track their performance against goals, identify new areas of concern and measure community impact.
Nearmap recently announced significant updates to its AI solutions at its annual customer event, NAVIG8. The fifth and latest generation of Nearmap AI is enabled by a new deep learning model trained on a much larger data set. The product has grown to an automated map of 78 layers (from 49 layers in the fourth version), and more than 500 facts per address.
Among the new layers are "leaf off vegetation" (which can identify trees without leaves, even in summer) and "vegetation debris" (which identifies broken and damaged vegetation, such as dead wood lying on the floor, or trees that have fallen in a wind event). Coupled with the near infrared capture capabilities of the new HyperCamera 3 system, Nearmap is continuing to evolve its offering in vegetation management, extending to use cases such as vegetation health and wildfire risk management.
To inform the development of the America's Top 25 Leafiest Capital Cities report, Nearmap pulled historical and current tree canopy high-resolution aerial imagery on residential areas covering more than 275 million inhabitants, and harnessed Nearmap AI machine-learning capabilities to identify and analyze residential tree cover density and changes in capital cities throughout the United States. l
For more information about America's Top 25 Leafiest Capital Cities, visit https://www.nearmap.com/us/en/aerial-view-blog/leafiest-capital-cities-in-america.