Aaron Beiler founded B&E Roofing in Lancaster, Pennsylvania, in 1987. He established his company by installing new roofs, but eventually ventured into roof replacements, which would be the inspiration for the invention of the Equipter Roofing Trailer.
Re-roofing projects have much more debris than new construction — tons more debris. "Six to ten thousand pounds of debris have to come off the roof during the re-roofing process," Beiler specifies.
The Problem with Debris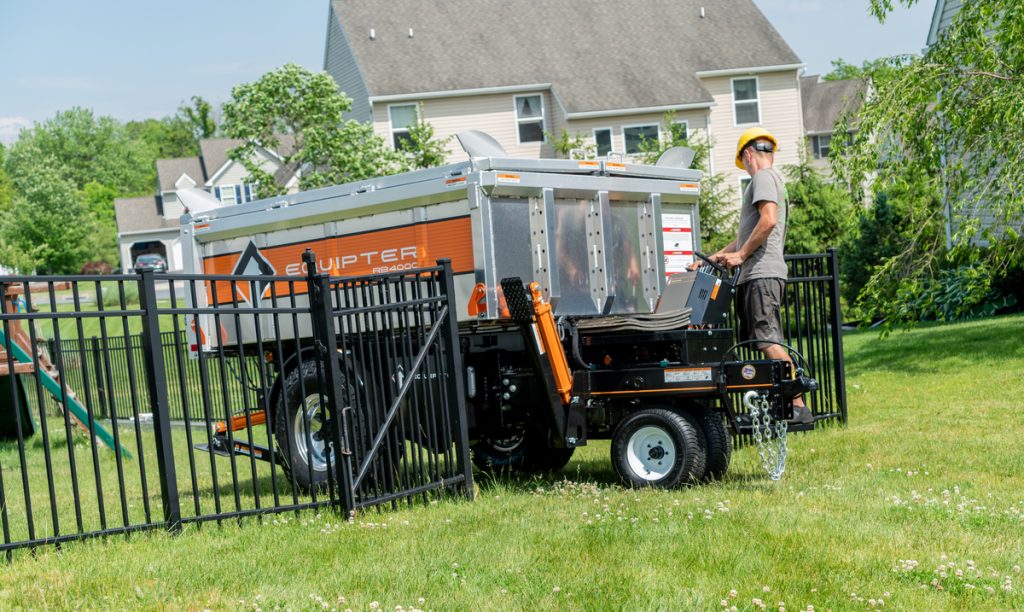 A lot of companies just chuck the tear-off debris onto the ground below to be picked up later. The additional cleanup effort slows work progress, adds unnecessary labor costs and can be frustrating for a skilled work crew. Debris discarded on the ground also makes the property look shoddy and can cause damage to the lawn and shrubbery. Beiler said a recurring complaint consumers file against roofers with the Better Business Bureau is messy worksites.
"I never wanted my crews to throw debris on the ground," he expresses. "It's a waste of time. It makes a messy jobsite and you have to pick it back up." B&E used a dump truck, which was useful up to a point. Jobsites didn't always have enough space to park in a spot that worked well. If there was a place to park it close enough to be accessed from the roof, it worked fine for a little while, but you still had to carry the debris across the roof to get to it. "We carried everything off the roof to the dump truck where it was parked on the driveway."
While it made for a cleaner jobsite, carrying everything to the truck was tiresome and time consuming. He knew there had to be a better way to handle the tons of debris.
Development
Beiler was a roofer for 16 years before coming up with the idea for the Equipter. Working on a roofing crew every day gave him the experience and insights he needed to solve the debris problem. 
He knew he needed:
• something that would hold a large amount of debris,
• something that was portable and highly maneuverable,
• something that would operate under its own power, and
• something that had a footprint smaller than a truck and could be maneuvered into tight spaces.
"One thought led to the next and I came up with the concept for what is now called The Equipter," he says.
What he came up with was an elevating, self-propelled garbage bin/trailer. Once he had that idea, it didn't take long to turn it into reality. He commissioned a local company to build the prototype. "From the initial concept, within five or six months we actually had one on the jobsite," he recalls.
It worked so well that they had a second one made for B&E Roofing. The third one was manufactured for a relative who used it for his business. "From there, it started branching out. Two years after that, we put up our own facility to manufacture the Equipter."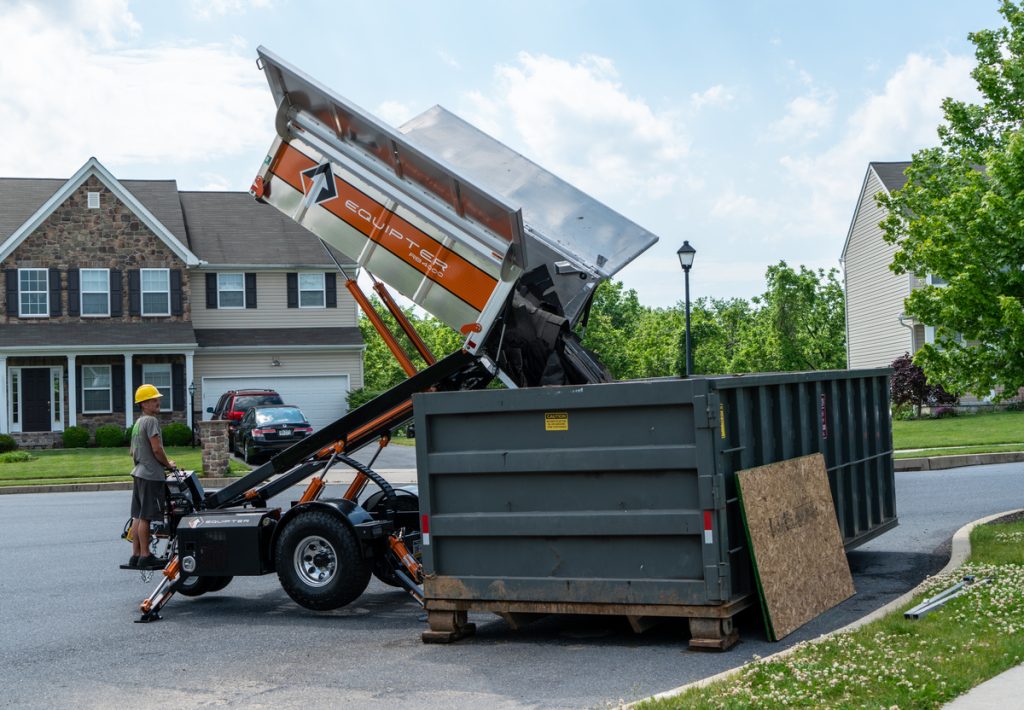 Features
"Even though some of the engineering was more challenging, I pushed for certain things," he explains. "I wanted to keep it under 6' wide. If you have a house with fence around it, and the fence has a gate, you need to be able to get through it."
He also wanted the lift to be engineered different than a scissors lift to make it more versatile. Once the box is lifted, it can be maneuvered back towards the roof. "The box will go straight back over the flowers and shrubbery so you don't have to be parked right up against the wall," he clarifies.
The Equipter is more than a motorized trailer. "It's towable so it's easy to get to the jobsite. You have a lot of equipment that's self-propelled but not towable. And you have a lot of equipment that's towable, but not self-propelled. The Equipter is both. You can hook it up and tow it behind a pickup truck, so you can move it without needing to put it on a trailer.
"And when you get it to your jobsite, you disconnect it from the truck and drive it around the property," he continues. It's propelled by a gas engine; the operator stands on a control platform to maneuver it around. "It's very mobile; it will get into tight spots where even your pickup truck won't fit."
The lids open to the sides and angle out, giving roofers a 10 ½' catch area. It's a little over 8' long so 8' material fits in the container and the lids will still close securely. "We were doing the job ourselves, so we knew what we wanted and needed it to do." It will hoist up to 4,000 pounds of material and has a hydraulic-powered tailgate for dumping. The capacity and maneuverability (aided by wide tires that don't track up the yard) work together to make quick work of transferring debris from the roof to a larger refuse container (trailer, dump truck, Dumpster), which can be left on the street rather than try to fit it on the property.
Raising Customer Expectations
When homeowners think about reroofing, they think about the impact that all the debris will have on their property, he says. "Most homeowners that you talk to will say they had their roof done, or a neighbor had it done, and it was a total mess. Homeowners were hiring B&E Roofing because they were impressed with our equipment and service," Beiler recalls. They knew B&E wouldn't mess up their property.
"Homeowners that know about the Equipter prefer to hire a company that has it," he says, "even if they're priced a little higher because it assures the homeowner that they have the equipment to not destroy the shrubbery, flowers, and yard."
Growth
Over the last six years, Equipter has grown from a very small facility to a three-building manufacturing compound with about 70,000 square feet of space. The manufacturing company started by making a single piece of equipment to help roofers; they now make five models to meet the needs of all businesses that need to move debris and materials.
"The Equipter now is going way beyond just roofing," Beiler expresses. "It's for debris management, whether roofing or restoration or remodeling. It's for fire and water restoration. Its momentum is building towards any debris management. For the roofing industry, it's great for lifting material. You put materials into it and it does extremely well."
Growing from a small, family-operated business to one with dozens of employees didn't happen without growing pains. "Four or five years ago, we grew to 40-50 employees," Beiler recalls. "At that point, we had to get more structured. It was very interesting. But that doesn't mean you have to sacrifice your culture. We get a lot of satisfaction from the fact that we work very much as a team. We thought we could continue with that family-like culture by putting key people in place. We work as a team and people enjoy working in that atmosphere. It makes it easier to function that way."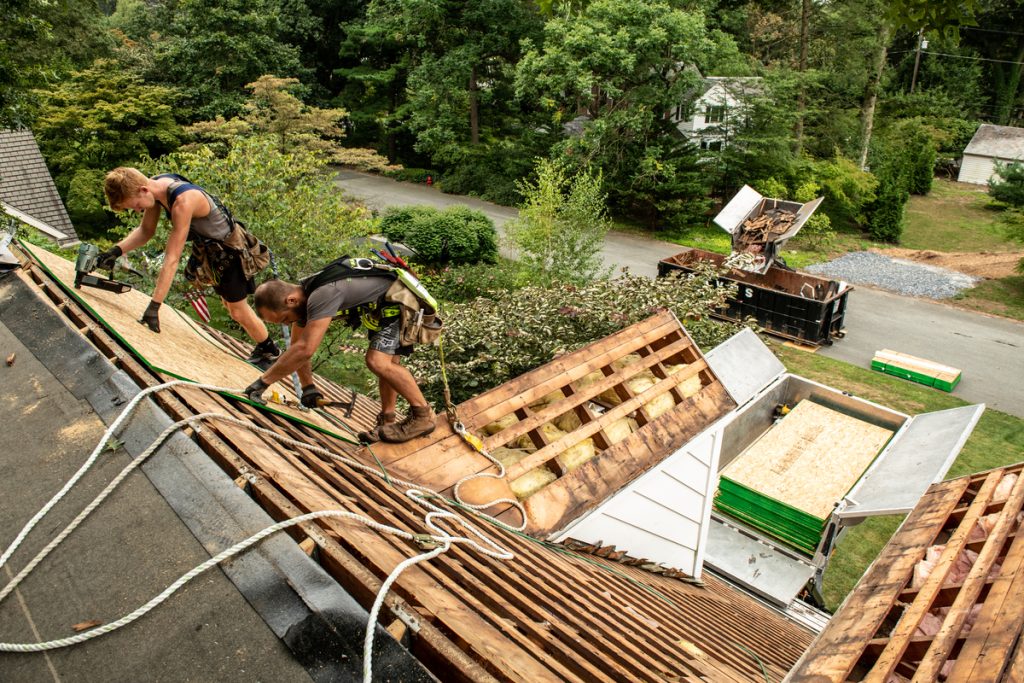 Like many businesses, the company has also experienced some supply chain issues. "We've noticed that since COVID, many manufacturers have struggled with having limited access to parts for their equipment. Equipter has mitigated the effects of the parts shortages by maintaining relationships with local parts manufacturers, like Beiler Hydraulics, that supply parts for our equipment designed and manufactured in Lancaster, Pennsylvania, instead of getting supplies from overseas."
Conclusion
Equiptor specializes in problem-solving. "We have in-house research and development and engineering teams, so we're always working on ways to increase our equipment's efficiency and meet the evolving needs of our customers," Beiler says. "I can't say much right now, but I will say I'm looking forward to the future." l