Verified Data Analytics (VDA) now offers its property assessment applications to contractors nationwide. In early 2022, the applications were awarded the Owens Corning Pinnacle Innovation Award.
Developed over the past three years, VDA Pro and VDA Drone collect data of the exterior elements, provide measurements of the roof, gutters, and downspouts, and help identify and document damage, defects, and maintenance requirements. Using algorithms and artificial intelligence, the solution combines the physical data collected via mobile phone application and drone footage to provide property owners, contractors and insurance companies with the measurements, documentation and reports needed.
"It is common knowledge that in construction, accuracy, consistency and time can impede the restoration process," said Chandler Steffy with Verified Data Analytics. "By providing data-driven measurement and reporting, we're giving everyone involved complete, accurate, indisputable information. The property owner can compare estimates, the contractor can professionalize their presentations, tighten supply ordering and if needed, provide documentation for a streamlined claims process. Everyone involved appreciates the transparency our system provides."
"The depth and accuracy of the data and the quality of the presentation give property owners a high level of confidence in our ability to do the job right," said Daniel Cowin, owner Daniel Cowin Construction who estimates he's climbed more than 65,000 roofs in his career. "They can see we have nothing to hide and VDA eliminates the human error that's always a concern with the traditional tape measure and note pad method of estimating."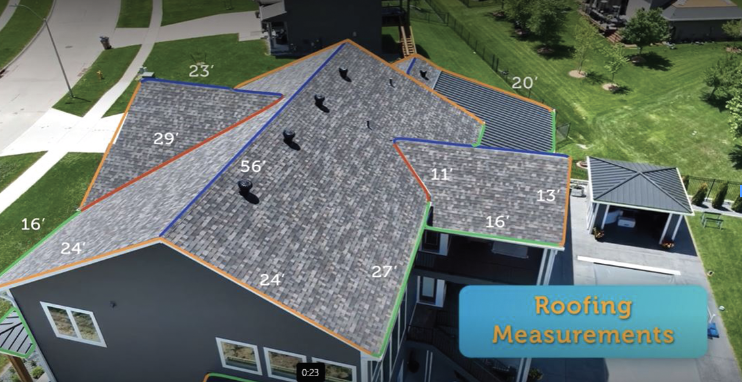 Following an Iowa hailstorm, property manager Keith Denner had a roofer inspect 70 buildings, including his own home.  The roofer found damage on three buildings and Denner started the insurance claim process. While speaking to the adjusters, he learned that drone technology was being used to document claims and speed approvals.
"I called a contractor that utilized VDA, and they were able to identify and record damage on all 70 buildings," recalled Denner. "My insurance company approved every claim. I wouldn't have known about the damage, or filed the rest of the claims, if it hadn't been for the data and in-depth reporting. I know that the data provided by VDA played a major role in securing approvals for more than $5 million in claims. I've shared this with my peers in the property management industry, because it's a valuable service, everyone needs to know about."
VDA Pro enables users to document properties by capturing images from the ground and record detailed documentation. VDA Drone autonomously controls the drone from take-off to landing and employs precise flight plans in direct correlation to the property address to generate 2-D and 3-D HD images of the property for review. The web portal integrates the data into a finished product.
"Ultimately VDA is designed to come along side our clients' current processes and enhance their ability to provide professional, consistent documentation, reports and estimates," said Steffy. "By repairing roofs in a timely fashion, clients can prevent further damage and ultimately save money." l