The Asphalt Roofing Manufacturers Association is seeking entries for its ARMA Excellence in Asphalt Roofing Awards Program. The program  recognizes the best steep- and low-slope asphalt roofing projects from throughout North America. 
Award winners will receive a monetary prize (Gold, $2,000; Silver, $1,000; Bronze, $500), as well as recognition in various media outlets, including right here in Roofing Elements Magazine.
The entries will be judged for beauty, project challenges, distinction, and why the submitter selected asphalt. Participation is free, and contractors can submit multiple entries for consideration.
Learn more at asphaltroofing.org/excellence.
New Form I-9 Now Includes Alternative Procedure for E-Verify Employers to Remotely Examine Documents
Form I-9 from U.S. Citizenship and Immigration Services is used to verify the identity and employment authorization of individuals hired for employment in the United States. The USCIS indicates the revised form is improved and should be easier to complete. 
All U.S. employers must properly complete Form I-9 for each individual they hire for employment in the United States. This includes citizens and noncitizens. Both employees and employers (or authorized representatives of the employer) must complete the form.
The new version of Form I‑9, Employment Eligibility Verification is now available for use. This version contains changes to the form and instructions, including shortening the Form I‑9 to one page and reducing the instructions to eight pages.
What Form I‑9 versions may be used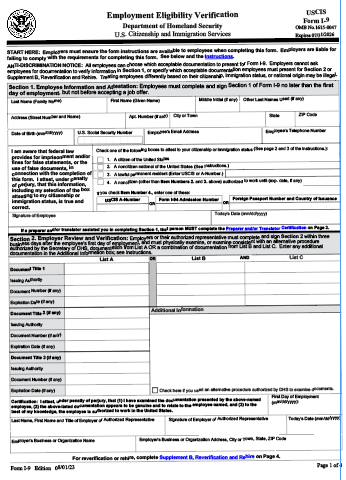 Employers may begin using the new Form I‑9 Aug. 1, 2023. The Form I‑9 dated "10/19/2019" may continue to be used through Oct. 31, 2023. The version date can be found at the lower left corner of the form. The new Form I-9 expires July 31, 2026.
Beginning Nov. 1, 2023, only the new Form I‑9 dated "08/01/23" may be used.
A revised Spanish Form I‑9 dated "08/01/23" is available for use in Puerto Rico only.
One of the changes on the new form is the removal of "alien authorized to work" in Section 1, replacing it with "noncitizen authorized to work" and the clarification of the difference between "noncitizen national" and "noncitizen authorized to work." A summary of the changes to the Form I‑9 and instructions is available online at https://bit.ly/44Zf0mY.
Also beginning August 1, employers may remotely examine employees' Form I‑9 documents provided they are enrolled in E-Verify. The alternative procedure includes, but is not limited to, examining copies of Form I-9 documents and conducting a live video interaction with the individual presenting the documents. The full procedure is detailed in a notice in the Federal Register published on July 25, 2023 [https://bit.ly/3QvA68m],
Find out how to enroll in E‑Verify on the Enrolling in E‑Verify page [https://www.e-verify.gov/employers/enrolling-in-e-verify].
More information on the alternative procedure for remote examination of documents as well as document retention requirements is available on the Remote Examination page [https://www.uscis.gov/i-9-central/remote-examination-of-documents]. l