AkzoNobel's CERAM-A-STAR® 1050
Select color palette program
Businesses across the coil coating industry can look forward to improved product availability, concentrated color volumes, and quicker turns on projects, thanks to AkzoNobel's CERAM-A-STAR 1050 Select color program. Developed specifically for use with CERAM-A-STAR 1050, the silicone-modified polyester coating, CERAM-A-STAR 1050 Select ensures the same product performance and warranty, now with the benefit of a standard color palette program.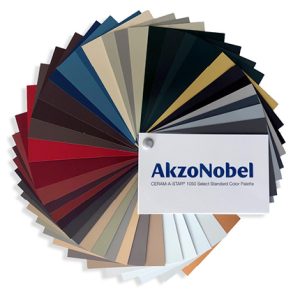 For service centers and distributors of painted coil, CERAM-A-STAR 1050 Select, comprised of 41 of the most popular coil industry colors, enhances operational efficiency by reducing color complexity and increasing demand for high-moving colors. For OEMs and regional rollformers, it will help to drive targeted color selection and customer satisfaction through enhanced performance and product availability.
CertainTeed® DryRoof™ SA Underlayment
In response to contractor demand for a high-performance, budget-friendly underlayment, CertainTeed has developed DryRoof SA. The underlayment is specifically designed to withstand high levels of moisture while providing contractors with ease of installation and the ability to offer manufacturer-backed extended roof system warranties.
The newest addition is lightweight and prevents water intrusion via watertight seals around fasteners and roof penetration points. Designed for use with asphalt shingles, this cost-conscious and self-adhering underlayment features a split-release backing for speedy and secure installations.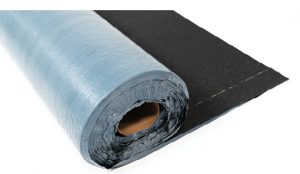 DryRoof SA is specifically engineered for use as a wind-driven rain guard along eves, roof penetrations, and valleys. It is UV-exposure-resistant for six months, adheres well to most surfaces, offers excellent elasticity, and has a slip-resistant sand surface to reduce the risk of falls. The underlayment can be used to cover an entire roof deck, as it serves as a valley liner, water penetration defense, and wind-driven rain guard.
Georgia-Pacific Building Products DensDeck® StormX™ Prime Roof Board
Georgia-Pacific announced the launch of DensDeck StormX Prime Roof Board, the first high-performance gypsum roof coverboard (patent-pending) designed to help prepare commercial rooftops to hold tough under the dangers of impact and puncture caused by very severe hail conditions. The product, classified for use in approved assemblies meeting FM Global's Very Severe Hail Standard set in 2018, is available nationwide.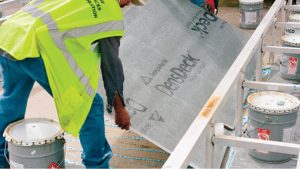 "DensDeck StormX Prime Roof Board is the premium choice in our product portfolio and the latest advancement in roof assembly resiliency from Georgia-Pacific," said Mikael Kuronen, Director of Product Management, Roofs, at Georgia-Pacific Building Products. "If your building is in a very severe hail zone or is frequently confronted by intense storms, you need a roof board that stands up to attack."
Proprietary engineering, innovation, and manufacturing enables DensDeck StormX Prime Roof Board to not only prepare a roof to adapt to severe weather events, but to recover from them.