BY JORDAN LOUDON, EXECUTIVE DIRECTOR
From March 1-3, 2023, the Roofing Industry Committee on Weather Issues (RICOWI, Inc.) held its annual spring seminar in Houston, Texas, at the Marriott Marquis hotel and conference rooms.
On the evening of Wednesday, March 1, the RICOWI Foundation Board members met. The RICOWI Foundation, formed in 2019 as a 501-c(3) nonprofit organization. The purpose of the foundation is to fund projects that relate to the betterment of the roofing industry.
Thursday, March 2, was the educational seminar day. Presentations included; Designing Low Slope Roof Drainage for Severe Rain Events/ Climate Change by Robert Hemphill with Aquatech Consultancy, Inc., Basic Skywarn Severe Thunderstorm Hazards and Spotting by Dan Reilly with the National Oceanic and Atmospheric Administration (NOAA), Roofing Impacts of the New Tornado Load Requirements in ASCE 7-22 and the 2024 IBC by Marc Levitan with the National Institute for Standards and Technology (NIST), and RICOWI Hurricane Ian Damage Investigations by David Roodvoets, RICOWI Storm Investigation Program (SIP) Program Coordinator. Following the presentations, the RICOWI, Inc. Board of Directors met. To wrap up the day with a little fun, the RICOWI Foundation held a fund-raiser reception. Foundation Chair, Annette Sindar and Executive Director, Joan Cook put on a fun evening of games, food, raffles, and networking. An anonymous donation of rare bourbon and fine wine brought in over $1,000 for the raffle of those items. Games such as giant Jenga and connect four kept the attendees laughing and perhaps, brought out the competitor of a few.
On Friday, March 3, committee meetings were held. The committees that met included Underlayment Committee, Code Committee, Strategic Planning Committee, Conference Committee, Membership, Education, and Promotion (MEP) Committee. Following the committee meetings, RICOWI Annual General Meeting and RICOWI Membership Meeting took place.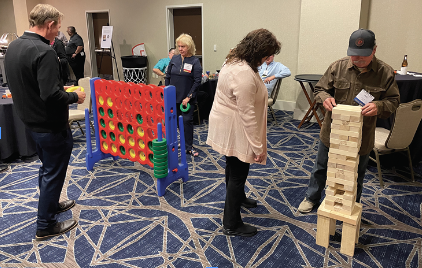 During the Annual General Meeting, elections of officers took place for Secretary/Treasurer and Director at Large. Board members, Tony Hyatt (CSSB) was elected as Secretary/Treasurer and Larry Peters (CDA) as Director at Large.
RICOWI would like to thank the sponsors of the event. Platinum Circle Sponsors included Duro-Last, Malarkey Roofing Products, and Westlake Royal Roofing Solutions. Gold Circle Sponsor S-5!. Silver Circle Sponsors; ISANTA, NRDCA, NCFI Polyurethanes. Bronze Circle Sponsor SDII Global. Event Supporter Insight Engineering. Thank you for your support!
RICOWI will hold its annual fall seminar in Rock Hill, South Carolina, from October 10-12, 2023, at the IBHS Research Center. A tour of the IBHS research center will take place. l