by Matt Minchew, Huber Engineered Woods
In the event of a severe storm, a durable roof may help protect against water intrusion at the most vulnerable area of a home. With the frequency and intensity of severe seasonal storms increasing, the stresses on roof assemblies and risk of leaks also increases. Under strong storm conditions roof leaks can cause costly repairs and put belongings inside at risk of water damage.
Whether caused by heavy thunderstorms, damaging winds, or hurricanes, water intrusion through the roof can leave a homeowner out of their home for months or longer while waiting for insurance claims to be filed and repairs to be done.
Building sealed roof decks as part of new construction projects has benefits for builders, too. Sealed roof decks built with integrated sheathing and tape from ZIP System™ building enclosures can help achieve a quick rough dry-in so interior crews can start sooner, and also help protect interiors from water damage while a roof may be exposed before cladding.
For more than 20 years, the Insurance Institute for Business & Home Safety (IBHS, ibhs.org) has extensively researched and tested what makes a strong roof. A result of this research is the the FORTIFIED Roof™ standard, part of IBHS's FORTIFIED Home™ (fortifiedhome.org) program, which promotes the use of a sealed roof deck as part of its nationally recognized standards for resilient building.
Resilient construction is designing and building structures that can be easily re-inhabitable after disasters or other setbacks.
A ZIP System™ Roof Assembly, comprised of engineered wood panels with an integrated, water-resistive barrier and advanced acrylic tape, provides a secondary continuous water-resistive barrier on a roof deck that helps prevent water intrusion at panel seams. Let's break down the difference between traditional roof assemblies and a FORTIFIED Roof™ sealed roof deck further.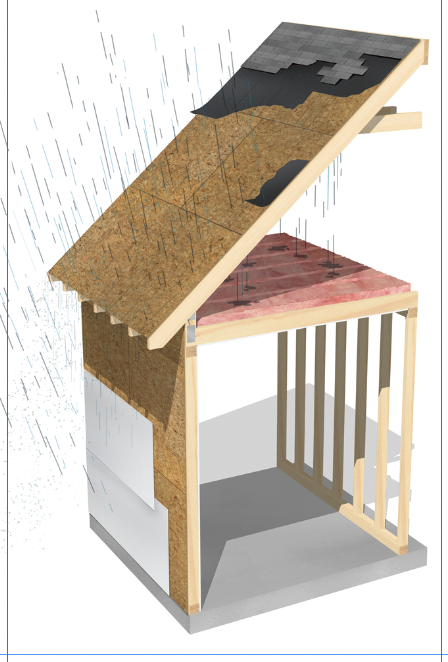 How a sealed roof deck prevents water intrusion
Traditional roof decks may be constructed with oriented strand board (OSB) or plywood panels as the structural sheathing layer. Next, 15lb-30lb felt (per local code) may be installed on top of the panels to repel water off of the wood substrate. Lastly, a roof covering, such as shingles, is attached. In the event the covering, and likely the felt with it, are blown away, this method can leave vulnerable panel seams exposed.
IBHS found that a primary cause of water damage associated with high wind events is that traditional roof assemblies can allow water to flow freely through panel seams when even a portion of the roof covering is damaged. From there, water may either trickle in or pour in with the help of strong, wind-driven rain events.
A sealed roof deck can provide a continuous water-resistive barrier to the roof to help protect the integrity of the structure by sheltering the interior from water damage in the event the roof deck is exposed. This exposure can occur during construction or in a high-wind event if the roof covering is blown off.
According to IBHS, an unsealed roof deck allows up to 60% of the rain that hits a damaged roof to enter the attic, while a sealed roof deck can reduce water entry by as much as 95%. Further, if all the shingles came off a 2,000-square-foot unsealed roof, up to 750 gallons of water could enter the attic for every inch of rain that falls – equivalent to nine bathtubs full of water.
There are four methods IBHS approves for installing a sealed roof deck to FORTIFIED Roof™ standards:
• Using tape and underlayment, which requires a certain tape and underlayment material applied directly to the roof deck.
• Applying a full layer of self-adhering membrane to the roof deck.
• Installing two layers of felt underlayment to the roof deck.
• Applying spray foam on the underside of the roof at every joint and seam.
Integrated Sheathing
ZIP System™ Roof Assembly is a streamlined approach to a sealed roof deck using tape and underlayment because of its integrated sheathing and tape design. Each panel comes with a built-in, weather-resistive underlayment, and when seams are sealed with flashing tape, it creates a continuous water-resistive barrier that eliminates the need for additional felt or self-adhered membranes to meet FORTIFIED Roof™ guidelines for a sealed roof deck.
This assembly also provides a continuous rigid air barrier by design, which reduces air leakage and can contribute energy efficiency benefits if the roof is built over a conditioned attic space. Using this streamlined approach to a sealed roof deck helps keep the water out in a high-wind, wind-driven rain event and also helps achieve a quick rough dry-in, which can help interior crews start work sooner.
Sealed Roof Deck in a Hurricane-Force Test
IBHS recently put sealed roof deck standards to the test, conducting a hurricane-force, wind-driven rain demonstration to show the water resistance of a FORTIFIED Roof™ sealed roof deck built with a ZIP System™ Roof Assembly.
In the demonstration, 105 fans reaching peak speeds of 105 mph and a rainfall rate of 8 inches per hour were released onto a model house.
The wall of fans was programmed to provide gusts and triangulation of wind to replicate wind trace data collected during Hurricane Florence in North Carolina. The sealed roof deck was 830 square feet and faced over 2,000 gallons of rain in 30 minutes, equating to about 4 inches during the 30-minute demo.
The result was a well-protected interior with a dry attic, which demonstrates that the roof assembly built with panels with an integrated underlayment, sealed with seam tape, provides an effective water-resistive barrier even when completely exposed during Category 1 hurricane conditions.
The IBHS (DisasterSafety.org) mission is to conduct objective, scientific research to identify and promote effective actions that strengthen homes, businesses and communities against natural disasters and other causes of loss.
Matt Minchew is the General Manager, ZIP System Roof Applications at Huber Engineered Woods.