By Roofing Elements Staff 
Are you a roofer looking to add a high-margin product to your offering of add-ons? Jim Ealer, Midwest Enterprises, maker of the E-Z-Gutter Guards brand (www.e-zgutter.com), says gutter protection is the most profitable install product in the building envelope, and one often missed by roofers.
"A lot of roofers are missing out when they don't add gutter protection onto their estimates," he said. "Roofing and gutters are getting to be commodities, but gutter protection is still a high-margin item."
The field of gutter protection has come a long way since it gained attention back in the 1980s. Ealer credits a product called Gutter Helmet for changing the market with its high-profile TV ads. Suddenly, consumers understood the benefits of covering their gutters to avoid the tiresome task of cleaning them of debris.
Ealer's father, Jim Sr., was already aware of the importance of gutter protection having been a gutter installer. In fact, he developed his own brand of gutter screen.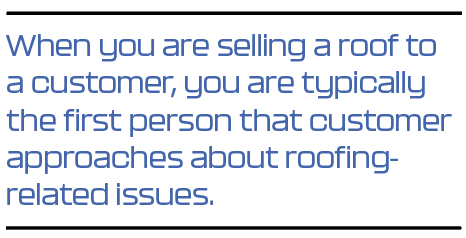 "We were the largest gutter installer in the St. Louis region," recalls Ealer. "We were doing 75% of all housing starts. We put a lot of gutters up in the 1980s."
Ealer was 14 years old when his father started the business and, by the time it was transitioned into manufacturing gutter guards, he spent 20 years himself as an installer. "I was crew chief, so with my crews I was responsible for over a million-and-a-half feet of gutter. In '83, my father designed Easy Lock, the very first powder-coated screen."
In 1999, the Ealer family moved out of gutter installation and went full time into manufacturing a growing list of gutter protection products. They installed their first powder-coat line in 2000, and added a second powder-coat line in 2010. Today, they manufacture and sell more than 20 varieties of gutter protection.
Gutter Protection
As a roofer, you may not want to add gutter installation to your repertoire of services, but might instead contract that work out to an installer who has the necessary tools and machines. But when you are selling a roof to a customer, you are typically the first person that customer approaches about roofing-related issues. That gives you prime opportunity to educate them on the need for gutters and gutter protection. It behooves you to have some basic knowledge about why it is important and what types of each are needed based on regional conditions.
Gutter Size: First is understanding gutter size (measured from the outside of the fascia board to the outside of the gutter). For residential use, 5" gutters are standard for traditional shingle applications. For most metal roofs, a 6" gutter is considered standard.
"No matter what part of the country you are in, you need to go with the 6" gutters," Ealer noted. "Heavier gutters, [and] thicker, stronger gutters hold a bigger volume of water."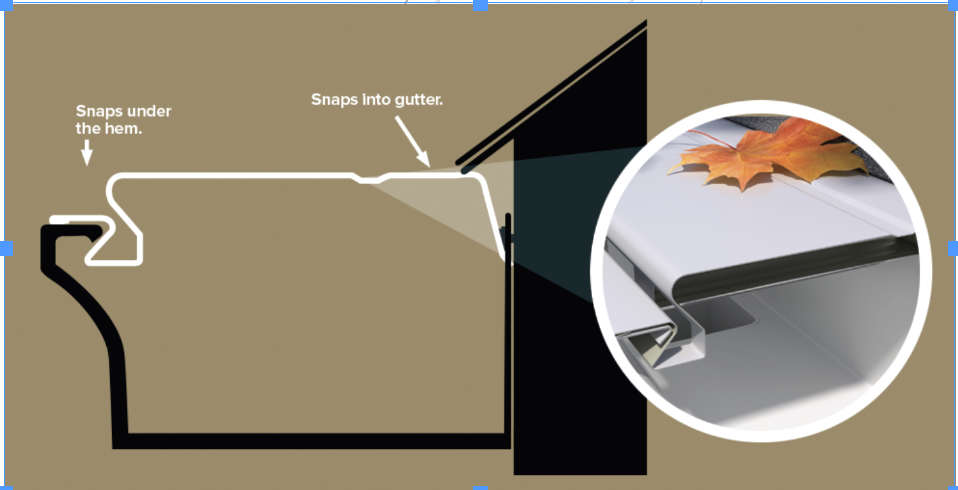 A special note: Tile and metal tile roofs require at least a 6" or 7" gutter. With tile roofs, Ealer noted: "Water will roll off the top and in between the tile ridges, so instead of spreading the water all the way across the roof, it's concentrating it, narrowing it down to little troughs. You're effectively cutting the size of your roof in half or more, so it's very important to use wider gutters."
The most trouble-free option for the building owner is a metal seamless gutter, made as one continuous gutter on a job site gutter machine.
Proper Gutter Placement: One point that is often overlooked by metal roofers who attempt gutter installation themselves, or who are assessing a problem area for a re-cover estimate, is proper placement of the gutters. On metal roofs, the gutter needs to be installed below the roofline. This can be particularly important in certain regions where heavy rain or snow can damage gutters.
"You want your gutter a little lower than if you were installing [it] on a regular shingle roof," Ealer said. In areas with heavy snow, the reason is more obvious.
"If the ice and snow comes off the metal roof, it's going to be frozen straight, so it is going to come off the roof at the same plane as your roof. If the gutter is installed above that line, then the snow is gong to catch on the front of the gutter. If you install below the roof plane, you stand a better chance of the snow or ice missing the gutter and gutter cover."
A word on stone-coated metal: It's better than standing seam at slowing down water and keeping ice at bay, but should also have gutters installed below the roofline.
Hangers and Spacing: Strong, well-placed gutter hangers will aid in controlling gutter damage.
"Any good gutter installer is going to use heavy duty hangers and space them more often," Ealer said. "You want to make sure you use really strong hangers; standard spacing is 24"… On a metal roof, you want to make sure you have them at a maximum of 24" apart, and better yet 20". And that's true whether you're working in the northern climates with snow, or in the southern climates with rain. The water comes off the metal roof so fast, it's going to fill up the gutters faster, so there's more weight involved."
Also, make sure the hidden hangers are screwed very securely.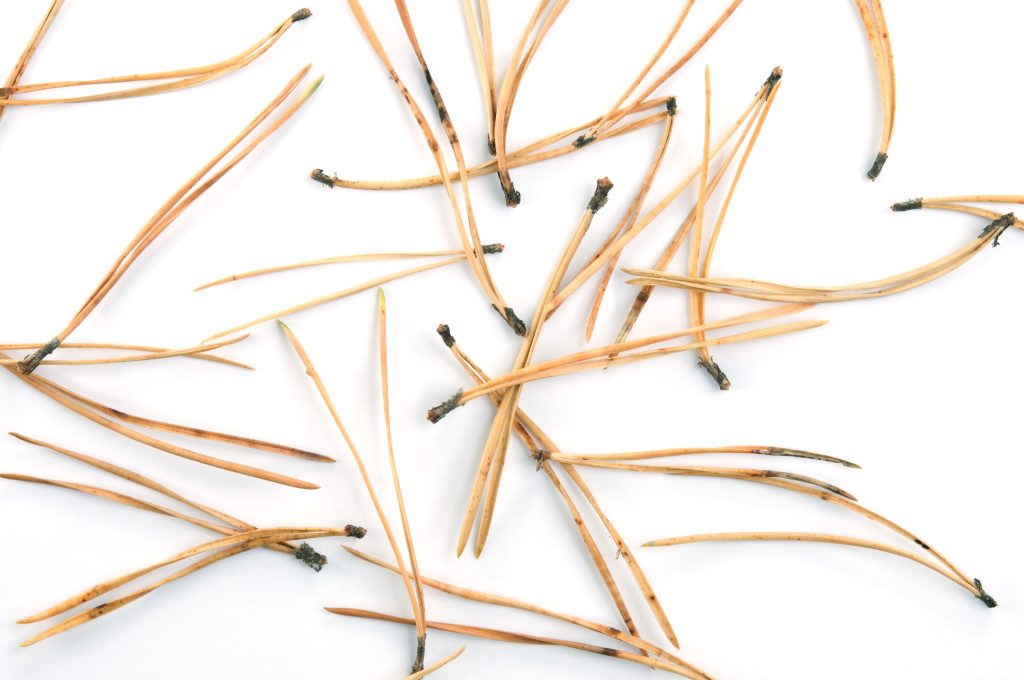 Snow Retention: In snow and ice areas, snow retention for metal roofs is essential.
"The thing you have to remember, whether it's snow or rain, the metal roofing is so much slicker and faster than standard shingles so it's really necessary in cold areas to use snow brakes. That is one of the most important things to do," he said.
Gutter Cover Options: On metal roofs (after the snow retention is installed and the gutters are placed lower than the roofline with ample strong hangers spaced correctly), the icing on the cake is the placement of gutter covers. Regional conditions again play a role in the best selection. Covers, in fact, don't just help with keeping debris out of gutters and eliminating routine cleaning, they also help control rain and snow.
A solid gutter cover is best in heavy snow areas. "If it's a solid aluminum gutter cover on top of the gutter, that will help shed the snow and ice off the gutters," Ealer explained.
"In the South, where heavy rains are more prevalent, the best choice is a screen. Those accept more water (the big downpours they have), but they're not really good for holding up snow," he added.
A general rule of thumb: Use gutter covers where it snows, and screens where it rains.
Just a few years ago, Midwest introduced the first gutter cover that is particularly good for metal roofs.
"We came out with E-Z-HydroClean and E-Z-HydroClean High Capacity," he said. "It's the only solid gutter cover in the country that just snaps into the gutter; you don't need to fasten it with any screws to the gutter or the roof. It's very low-profile."
The High Capacity version is considered the company's "Cadillac" of gutter protection styles.
De-Icing Systems: If you are in an area where freezing and thawing occurs throughout the winter, the building owner may wish to invest in a roof de-icing, or radiant heat, system to keep damaging icicles at bay, particularly on the north-facing side of the roof where icing problems are typically more prevalent.
"A lot of times it depends on the freeze and thaw cycle, and which directions your gutters are pointing, as to whether the roof is more susceptible to icicles," Ealer noted. De-icing systems are not common on most roofs, and Ealer is not familiar with the options, but realizes that it can be an effective solution for some problem roofs and can avoid gutter and cover damage.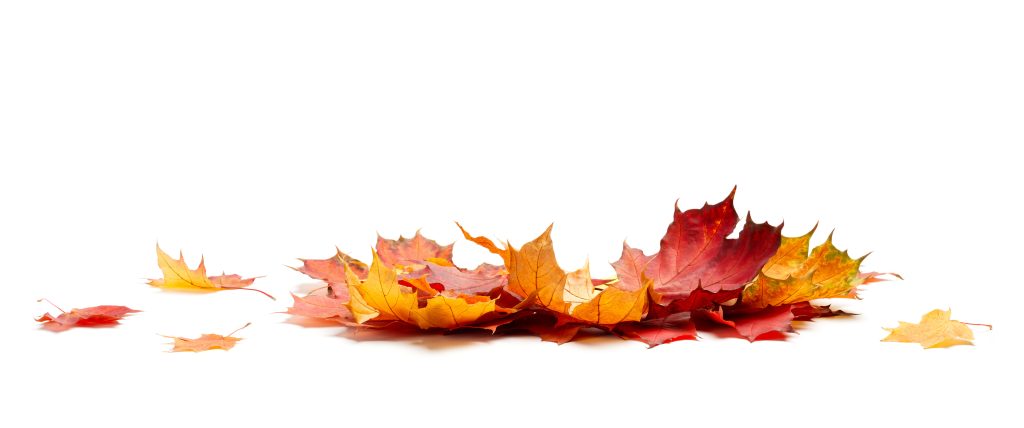 The Trouble With Trees: What type of trees are near the roof can make a huge difference in the type of gutter protection you should select.
"If you just have oak trees, then a standard type of screen is fine," Ealer said. "But if you have trees with smaller leaves, like a poplar, you need a screen with smaller holes."
The most difficult of all, however, are evergreen trees. "That's the most difficult debris to combat," he said. "A large volume of pine needles comes off a pine tree and fills up your gutters in the matter of no time. That takes a specialized gutter protection."
Give 'em What They Want
In his own arsenal of gutter protection, Ealer said his company has developed just about every type of gutter cover for every situation, but admits that part of its inventory is to appease installers who are devoted to a particular style.
"Once a gutter installer has success with a product, it's really hard to get them to change. They're very loyal to that type of product," Ealer said. "They may change brands but they won't change types. So the reason we have so many different types of gutter protection is so the distributor can combine sales with all the different gutter protection they offer. Even though they might sell most of one particular screen or cover, they can also take care of the installer who might want an oddball type. There's a competitor to all those types of screens, we're just the only one that can provide them all."
If you decide to offer gutter protection as an add-on, Ealer reminds you that knowledge is power, and knowing what can work best in your own area is half of the battle of upselling to your customer.