Family reunions, wedding receptions and birthday parties held at Battle Creek Regional Park Pavilion now have an improved look to them because Central Roofing Company recently installed a new roof on top of the massive pavilion structure.
With interior seating for 500, the pavilion in Maplewood, Minn. is a stable for community and private events. "The old asphalt shingle roof was simply at the end of its life," says Ryan Ries, facilities and sustainability director for Ramsey County Parks and Recreation in Minnesota. "This large facility is in constant use. It features two kitchens, the ability to be split in half and other enhancements. It's a stable of our park system, so we were extremely pleased to get the new roof overhead."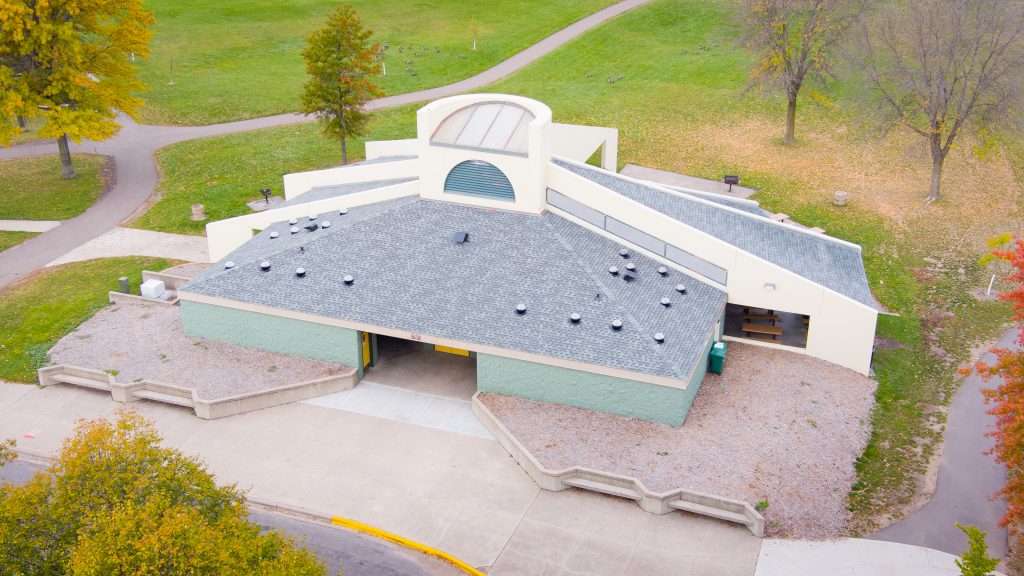 Getting the Job Done
Central Roofing has experience in working on many park system structures in Ramsey County. For this pavilion project, the team installed GAF Shingle-Mate® Roofing Felt, GAF WeatherWatch® Ice & Water Leak Barrier and then GAF Timberline HD® Shingles in a slate color.
"We've had good experiences with Central Roofing on at least 15 similar projects in the past eight years," says Ries. "They don't disappoint. The team delivered on schedule and returned promptly for a warranty call. Their workmanship is of high quality.
"We have dozens of facilities in our system that continually need re-roofing. Typically we replace one or more roofs each year. Thanks to their responsiveness and work quality, we will definitely consider using Central Roofing again for our future needs."
The unique style of the pavilion, with all its different roof levels and areas, made this a unique re-roofing project for the team at Central Roofing.
"We could only fit one or two workers up on the roof at a time," says Matt Drew, project manager with Central Roofing Company. "This project took just under a week to complete and required a good deal of coordination.
"The really good thing is that the county has upgraded the roofing product on the pavilion. This GAF material has a lifetime warranty, so they've made a great investment for the future."