Setting the bar in building codes
and product standards
BY JESSICA FRANCHUK
In 1974, almost 50 years ago, the state of Florida began requiring all local governments to enforce a minimum building code. However, after Hurricane Andrew devastated southern Florida in 1992, severe flaws in the state's code compliance and enforcement were revealed. It is said that Hurricane Andrew created the state's worst insurance crisis of all time, which ultimately led to the creation of a statewide Florida Building Code.
Beginning on March 1, 2002, the Florida Building Code officially superseded all other local codes in the state. Updates are made every three years, with the occasional annual amendment for any necessary clarifications. All facets of "building" are included, from design, planning, and construction to modifications, repairs, and demolition—also encompassing products used in these processes.
So how does Miami-Dade County fit in? They issue Notices of Acceptance (NOA) for products that are allowed to be used in their county. All of these products will also meet Florida Product Approval, but have also satisfied the more strict requirements of Miami-Dade County. According to Mark Gies, Director of Solar Business for S-5!, "Miami-Dade County is known to have the most stringent building code requirements in the country since they have arguably the toughest High-Velocity Hurricane Zone (HVHZ). It is a good certification to have because NOAs are generally accepted by other jurisdictions that view them as meeting or exceeding their local product approval process. NOAs are accepted all over Florida, as well as surrounding states and territories, and places like Hawaii and the Caribbean.
"The state of Florida has its own product approval process with its own baseline requirements for different wind zones, including their own HVHZ. Gaining product approval from the Florida approval process is valuable for projects in most of Florida; it is not accepted in Miami-Dade or Broward counties. Overall, it is not as universally accepted by Authority Having Jurisdictions (AHJs) as an NOA is."
Manufacturers Put to the Test
What does all of this mean for those who actually produce and manufacture roofing products? Alex Pecora, Director Product Development for CertainTeed Roofing, shared, "Florida's building code requires various building products, including roofing, to be tested and registered with the state via a statewide approval system. In contrast, Miami-Dade County's Notice of Acceptance approval process is performed at the county level and may permit more evaluation categories than the state does."
The manufacturer must decide if each individual product needs to achieve an NOA. "Not all of a company's products will be Miami-Dade approved, and this is generally based on the expected Return on Investment (ROI). We must be able to justify the additional expense of getting the product tested, based on what we expect in sales. Of course, we have had products with a high demand in Miami-Dade County, which we went ahead and got approved," explained Sal Delfino, Technical Manager of Codes and Testing for Petersen.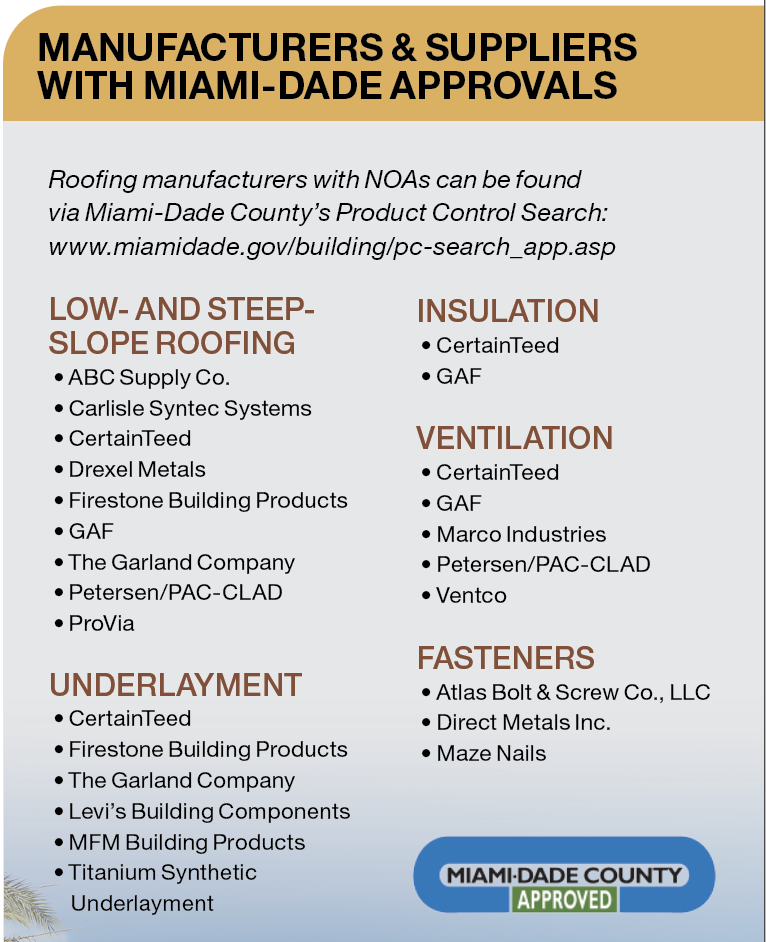 S-5!'s Mark Gies and Dustin Haddock, VP of Research & Development, went into detail on the process for their products, including one-time NOAs: "S-5!'s approach in Miami-Dade County has been to obtain project-specific product approvals in which we have been successful with many of our clamps and brackets, as well as our direct-attach™ solar mounting system. In these cases, we receive a one-time Notice of Acceptance from Miami-Dade. For the one-time NOAs, our testing is specific to the roofing material, manufacturer, and finished profile. These tests are conducted at an ISO/IEC 17025 accredited laboratory and meet the requirements of Miami-Dade County concerning testing laboratories. Because we are able to illustrate the capacities of our products on a specific standing seam basis, it is fairly easy for project-specific NOAs to be obtained.
"Full product NOAs are given when a roof system passes the required testing. A 'system' includes many components and factors, such as the clamp, standing seam profile, material thickness, concealed clip, the screw securing the clip to the structure, and the structure of the roof. This creates endless potential combinations that would require individual testing, so our strategy has been to pursue project-specific NOAs, which is not uncommon for companies like ours."
Delfino added, "Non-approved products cannot legally be installed in Florida. If non-approved products are used in a roof installation and this is discovered during an inspection, they must be removed and replaced with an approved product." So if you're installing a roof in this strict county, it is wise to follow their requirements and rules.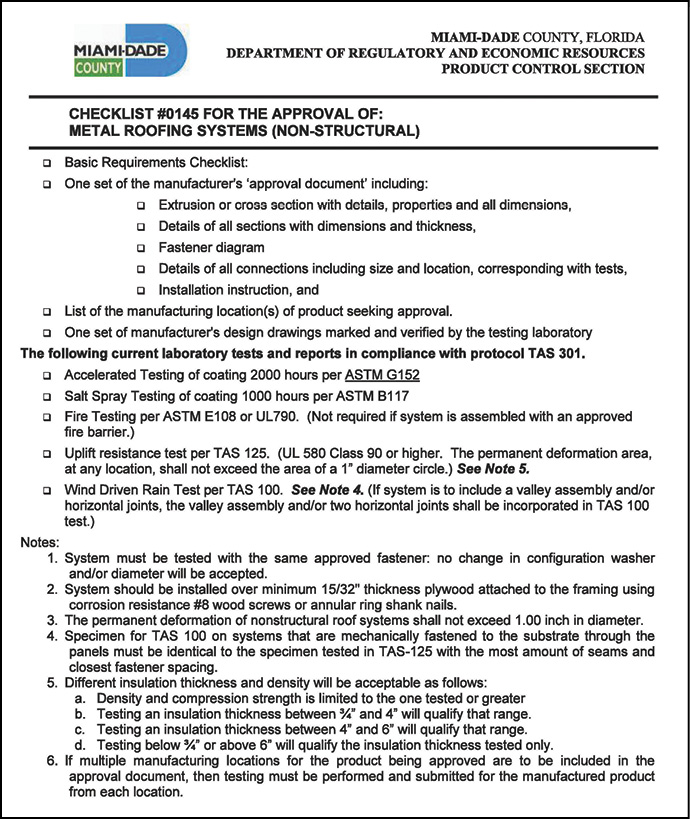 Outside of Florida?
Don't do business in Miami-Dade County or even in the state of Florida? You should still pay attention to those products with NOAs. Pecora shared, "We believe the Miami-Dade NOA does appeal to roofing contractors, builders, and homeowners in other regions. Since Miami-Dade is considered a High-Velocity Hurricane Zone, they have some of the country's strictest building codes. A roofing system with a Miami-Dade NOA will provide superior protection from wind events, no matter where it is installed. This type of protection is even more important due to the extreme weather events many areas in the country are now experiencing for the first time."
Ken McLauchlan, Director of Sales for Drexel Metals, added, "A lot of reps want to talk about [NOAs], but they aren't really needed outside of the region. However, those contractors in coastal or gulf states may look to these products for guidelines."
In conclusion, even if you don't install roofs in Miami-Dade County or even in Florida, products that have achieved an NOA may still be good additions to your supply list—you can rest easy knowing that they have been subjected to the most rigorous product testing around.