New metal roofing line designed to tackle the elements while offering high-end aesthetics
ProVia, a nationally known manufacturer of entry doors, vinyl replacement windows, polymer siding, and manufactured stone veneer, introduces its new line of embossed residential metal roofing. With a growing demand for premium aesthetic, non-vertical roofing products, this new offering complements ProVia's current portfolio of exterior building products, offering support to new and existing dealers seeking an opportunity to expand their own business into this category.
This unique, stamped panel metal roofing system combines high-end aesthetics with the premium performance and longevity of a galvanized, highly engineered steel roof, and is backed by an industry-leading warranty. Made in America from domestic recycled steel, ProVia's high-performance metal shake and slate roofing panels are engineered to perform and maintain their good looks longer than asphalt, wood, or other metal roofing products.
ProVia's 26-gauge (G90) hot-dipped galvanized steel panels are thicker than the industry average (typically 28 to 30 gauge), yet weigh up to three times less than asphalt shingles. Manufactured with 10% more steel, ProVia's residential roofing is engineered to provide lifetime protection from hail, wind, rain, and corrosion.
ProVia employs an exclusive GalvaTec™ four-part Kynar paint finish system to produce a hardened, resin-based surface that protects against algae formation and black streaks that can deteriorate granular and porous roofing materials like asphalt, slate, and wood shake. GalvaTec provides a highly reflective and emissive surface that keeps the metal roof cool, reduces energy consumption, and re-emits absorbed solar radiation. The durable finishes are fade- and chalk-resistant, with energy-saving, solar-reflective pigments.
ProVia's weather-resistant design and construction includes a 4-way multi-point locking system, which provides edge-to-edge secure panel placement and field anchoring; defense against wind uplift at speeds up to 180 mph; a barrier system for shedding the forces of sheeting rain; and a reverse-side WaveLock™ design for increased panel strength.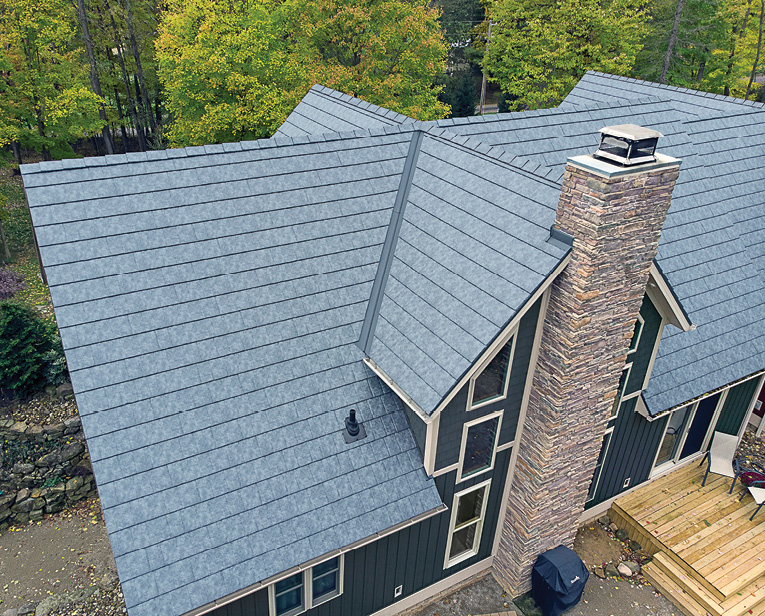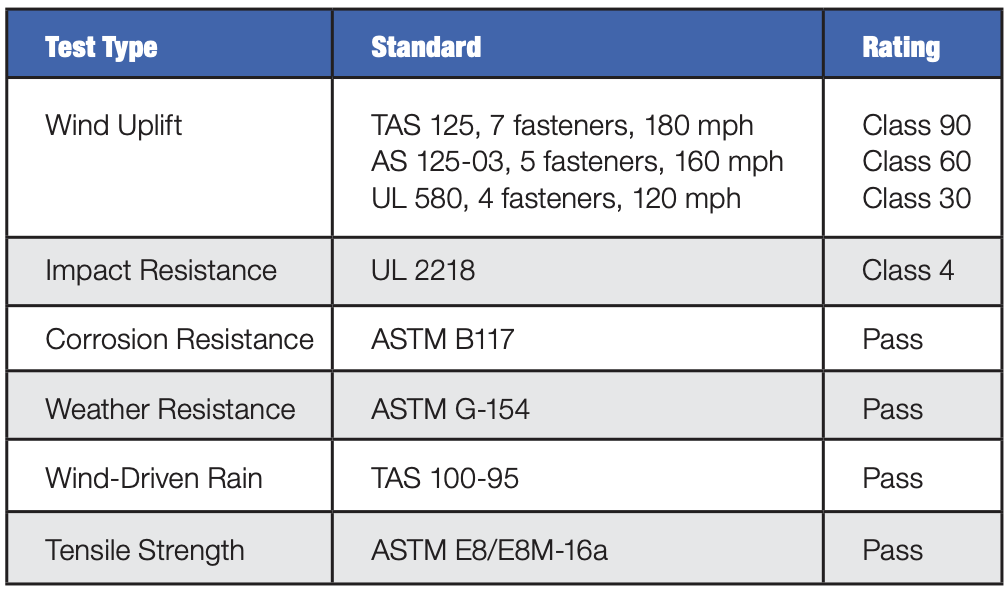 ProVia's metal roofing system is third-party tested and certified, meeting or exceeding industry standards, as shown in the table at right.
ProVia spent years in discussion, research, and development before making the leap to manufacturing metal roofing. It was important to ensure their system exceeded existing standards in the marketplace. Phil Wengerd, Vice President of Market Strategies, described the impetus behind this new product offering: "We knew that the metal roofing category was really growing, and locally, we were seeing a lot more of it. But it was all standing seam, which is a more industrial look, and we realized there was an opportunity to develop a more aesthetic alternative.
"We had a vision—we believed the product should look authentic and timeless. All of our products combine old-world craftsmanship, premium materials, and high-quality manufacturing. Details are important to us, so we wanted our metal roofing to resemble traditional hand-split wood and quarried slate.
"Joe Klink, our Director of Corporate Relations, actually bought real wood shake and slate shingles, brought them in, and we arranged them in the conference room and picked out patterns and textures that we liked. That led us to create design drawings, 3D scans, and an embossed die that had texture and character.
"Designing the way the product looked, and then actually getting it to manufacturing was a process," Wengerd continued, adding, "Sourcing the right type of steel that could be stamped without cracking or breaking, with the necessary tensile strength—all of those things had to come together before we could turn the manufacturing line on. Along the way, we continued to refine the way the panels interlocked to create a more watertight product. We had to experiment with how to form the edges, and it forced us to think more about the design features. From start to finish, the product design kept improving. Without the design and forming challenges we experienced and overcame, we might not have as strong a product. We could have just settled, but these challenges made us refine the product. It emphasizes our commitment to caring for details in ways that other manufacturers won't."
Scott Lowe, Sales Manager for ProVia Metal Roofing, said the aesthetics, quality, and installation program is meeting a need in the roofing market: "Consumers have been looking for metal roofing systems that don't appear so 'industrial looking' like most of the systems on the market today, which are vertical exposed fastener and standing seam systems. Homeowners are craving something more elegant and traditional looking, while adding protection, longevity, and value. That's exactly what we give them with our metal roofing system."
The shake and slate profiles preserve the unique characteristics of classic natural roofing materials. The state-of-the-art metal stamping process creates tens of thousands of surface impressions, with a range of variegated texture to provide an authentic aesthetic. The colors draw on the beauty of nature, with four natural shades of gray and brown and coordinating trim in each profile, offering a palette to accentuate the exterior of any home.
"With our engineering and warranties, we believe there is no one providing better protection and longevity than ProVia," Lowe continued. "On top of all that, we created a system with the installer in mind. Through our R&D we found that the biggest reason so many dealers did not want to deal with metal roofing, even though they understand the need and want, was because of the installation. Most systems are difficult to install, and many of the trim and accessory kits are incomplete. They create nightmarish first-time experiences."
Most roofing manufacturers warrant the quality of their product, but not damage caused by faulty installation. ProVia has made a significant investment to ensure installation quality by creating its own Certified Installer program, with a Workmanship Warranty that ensures a professional installation.
"We put great time and care into creating a system that would make the installers' job much easier. We've designed it to be the most user-friendly stamped panel system on the market today. And with that design we have created special tools to make the job faster and easier. Plus, we have a certification program that will teach the installer exactly what they must do to install correctly. We also lend them installation support for their first job, which is huge. Being there for them until they get comfortable with the tools and the process gives the installer peace of mind," Lowe remarked.
ProVia is committed to producing professional-class building components that add value to the homeowner and help dealers grow their business. Dealers and installers looking to add metal roofing can expect a unique, niche product with an increasing demand; authentically designed, nature-inspired profiles; a comprehensive installer certification program; best-in-class warranties; and a high level of customer service and business support.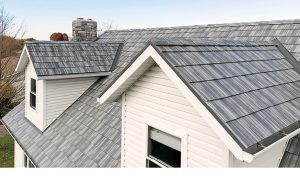 Full production is underway at ProVia's manufacturing facility in Booneville, Mississippi, and orders are immediately fulfilled.
For more information, visit www.provia.com/metal-roofing. Dealers and installers—for information on ProVia's Metal Roofing program, visit www.provia.com/6reasons