Saint-Gobain [www.saint-gobain.com], through its building products subsidiary CertainTeed LLC, has announced plans to invest more than $200 million between its Oxford, North Carolina and Peachtree City, Georgia, facilities.
$118M Expansion in North Carolina
The company has announced it will invest $118.8 million over the next five years to expand its CertainTeed roofing shingle manufacturing facility in Oxford, North Carolina. It is an investment that will support the company's growing customer base in the southeastern United States.
The expansion in Oxford is one of the company's largest ever investments in an American roofing plant, and comes only months after Saint-Gobain announced its global Grow and Impact strategy, which includes expanding its presence in key, fast growing markets. This investment will incorporate new equipment and automation to maximize employee safety and provide state-of-the-art technology and processes to align with Saint-Gobain's global vision of carbon neutrality by 2050. Improvements will allow for a 14% reduction of CO2 emissions per production unit, as well as further water and energy consumption reductions.
The North Carolina project is supported with $650,000 in reimbursement grants from the State of North Carolina, including funds from the One North Carolina Fund and a Rural Division Building Reuse Grant.
"The investment in our plant in Oxford is an investment in the future — we are committed to our customers, to our employees, to Granville County and to the State of North Carolina," said Mark Rayfield, President and CEO of Saint-Gobain North America and CertainTeed. "As a leader in light and sustainable construction, this expansion will ensure our business has the materials necessary to continue serving our customers and meet growing demand."
The CertainTeed Oxford plant, which began operations in 1978, is already one of the largest roofing shingle manufacturing sites in North America. Sitting on 113 acres in Granville County, the project will create an additional 225,000 square feet of manufacturing space and at least 37 new full-time manufacturing jobs.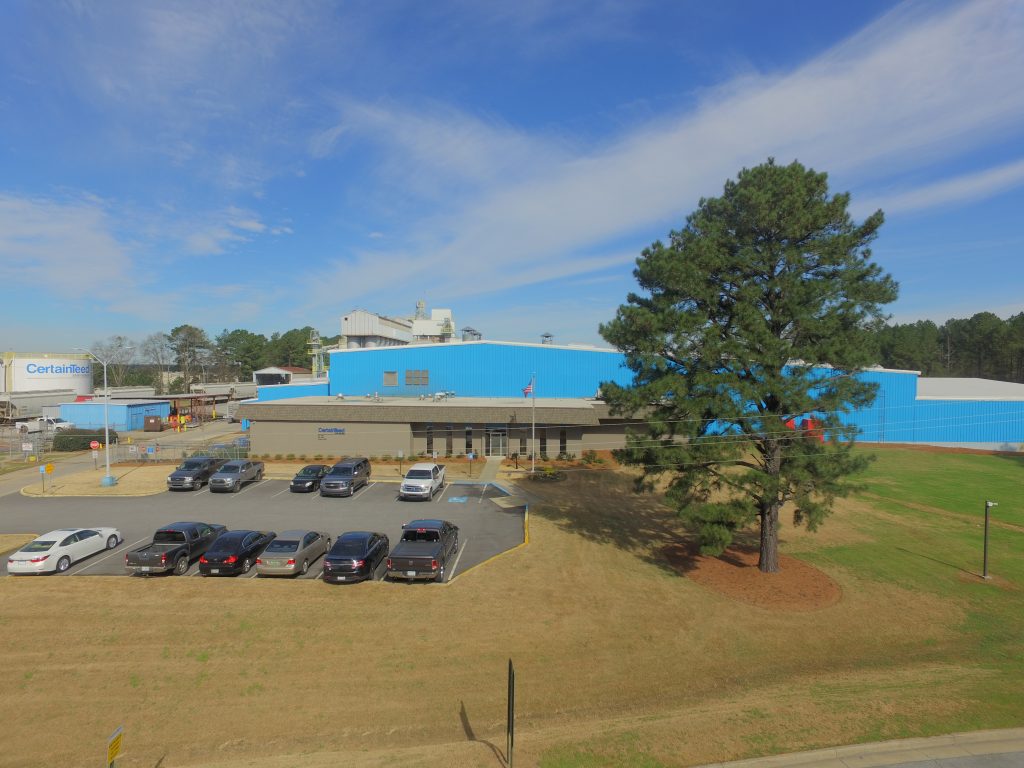 $100M Expansion in Georgia
The company also plans to invest $100 million over the next two to three years to expand its CertainTeed roofing shingle manufacturing facility in Peachtree City, Georgia.
The expansion in Peachtree City will add over 65,000 square feet of manufacturing and warehouse space and will more than double production capacity at that location.
The project will be supported by more than $5 million in state and local tax incentives realized over the next decade.
"Today marks the beginning of an exciting new chapter for our plant in Peachtree City – this is an investment in our company's future ability to supply our growing customer base," said Carmen Bodden, Vice President and General Manager of CertainTeed Roofing Product Group. "We will continue to look for ways to maximize our company's positive impact, for our customers and the communities where we operate, while working to minimize our environmental footprint. We thank Fayette County and the State of Georgia for their support."
(Additionally, Saint-Gobain ADFORS has announced an expansion at its facility in Dublin, Georgia.)
The CertainTeed Peachtree City plant, which began operations in 1976, sits on 23 acres in Fayette County. Currently, the plant employs 83 individuals. As a result of this expansion, at least 27 new full-time operations jobs will be created.