A traditional beef feeding building gets a bonus recreational space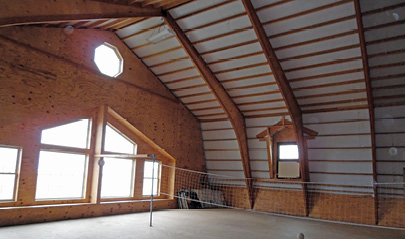 When tasked with creating a multi-use structure in north-central Wisconsin, Zimmerman Construction knew the roof had to be strong enough to withstand the area's harsh winter weather. Annual average snowfalls in Curtiss, Wisconsin, hold strong at 48″, almost a full 20″ more than the national average.
This impressive amount of snow can be heavy and destructive to a building if the project isn't properly planned out. Zimmerman turned to Hixwood Metal for their Super-Rib 100, which includes a higher zinc content than the industry standard. This also makes it the preferred panel for livestock applications and an appropriate fit for this specific beef feeding building. The high-quality finish on the panels also provides the necessary weather resistance, flexibility, and UV resistance to make sure the roof stands up to the elements for many years to come.
Project Overview
Location:
Curtiss, Wisconsin
Project size:
Feeding section: 11,160 square feet
Recreation second story: 4,608 square feet
Contractor:
Zimmerman Construction
Thorp, Wisconsin
Roof panels:
Hixwood Metal Super-Rib 100
Wall panels:
Hixwood Metal Super-Rib 60
Insulation:
Plyco Ply-Foil Double Bubble
Ventilation:
Curtain walls
Fasteners:
Atlas Building Products
Maze Nails
Cupolas:
MWI Building Components