MFM BUILDING PRODUCTS ANNOUNCES EXPANSION PROJECT
MFM Building Products, a manufacturer of a full envelope of waterproofing and weather barrier products for the building industry, has recently announced a substantial expansion project for 2021. The company hosted a groundbreaking ceremony for local dignitaries and media on March 19.
The thrust of the project is adding close to 50,000 square feet to the production area, and the acquisition of new production equipment to meet the rising demand for orders. MFM has been acquiring additional raw materials to ensure product availability for their customer base, and this new facility will accommodate the additional inventory. The building is planned to be completed by fall of 2021, and the new production equipment to be installed and operational by early 2022.
Other aspects of the expansion project include razing a building on the company property, constructing new offices in the main headquarters building, and the addition of a new, state-of-the-art Research & Development laboratory for increased quality control and new product development. In total, the company expects to hire an additional 20 full-time employees as part of the expansion.
According to Tony Reis, President, "The expansion project is the result of continued company growth and the company's commitment to meeting the needs of our customers today and in the future. With this investment, we hope to introduce new waterproofing projects to our portfolio of existing waterproofing membranes. As an ESOP company, there is a lot of excitement among our employees as MFM continues to grow."
New Polyiso Insulation Manufacturing Facility for Carlisle Companies
In late April 2021, Carlisle Companies Incorporated announced plans to invest more than $60 million to build an innovative manufacturing facility in Sikeston, Missouri. Consistent with Carlisle's Vision 2025 strategy to invest in high-returning businesses, the plant will support organic growth initiatives and also create jobs for the city of Sikeston and its surrounding communities. This 445,000-square-foot facility will be the 50th for Carlisle's Construction Materials segment, CCM, a manufacturer and supplier of energy-efficient building products and related technologies for the commercial and residential construction markets.
This central location will both reduce the carbon footprint of CCM's supply chain and improve material lead times for customers in this region, where the use of insulation in the building envelope is steadily increasing. At this new facility, CCM will manufacture energy-efficient polyiso insulation.
Construction is planned to commence in summer 2021, with the first phase of the facility expected to be operational by the first quarter of 2023.
Chris Koch, Chairman, President, and Chief Executive Officer, said, "I am extremely pleased to announce this investment in CCM and in the state of Missouri, which demonstrates our continued commitment to be a leading supplier of innovative products for energy-efficient buildings, utilizing ESG principles in our processes and products, and delivering the premium Carlisle Experience to our customers."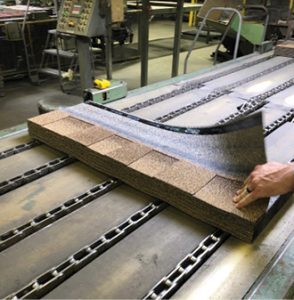 GAF creates First Asphalt Shingles from Recycled Waste Shingles
GAF, a Standard Industries company, announced a new patented shingle recycling process that has successfully produced the industry's first asphalt roofing shingles containing recycled material from post-consumer and post-manufacture waste shingles that may have otherwise been landfilled.
This breakthrough represents an important milestone in delivering more sustainable, affordable roofing materials and has significant implications for improving sustainability and circularity across the roofing supply chain.
"This latest innovation from GAF represents the first major step toward a circular economy for asphalt roofing shingles," said Jim Schnepper, President. "We envision a future where every homeowner, when replacing their roof, can do so with high-quality, affordable shingles made with recycled asphalt."
The new shingle recycling process reduces the amount of raw materials required to make new shingles without compromising product quality or performance. During its successful tests, GAF was able to reclaim more than 90% of the waste shingle material (by weight), to be reused in the manufacture of new shingles. GAF additionally demonstrated its ability to manufacture new shingles containing up to 15% recycled material that were UL-certified for their safety and effectiveness. The U.S. Patent and Trademark Office issued GAF three patents covering this new shingle recycling process.
GAF is committing more than $100 million to bring the recycling process to commercial scale, including the development of a pilot operation in 2021 that will enable the company to conduct additional research and development on its process. Through the pilot, GAF expects to assess the maximum amount of recycled asphalt that can be used to make new shingles meeting the company's high standards, while optimizing the manufacturing process prior to scaling it across its operations.
"This innovation has the potential to reduce a significant waste stream in the U.S. and represents an important advance within the roofing industry," said Tad Radzinski, Certification Officer for GreenCircle Certified, a third-party certification organization. "Through the recovery of valuable end-of-life roofing materials, GAF is setting the course to reduce environmental impacts across the shingle product life cycle and provide a truly circular, sustainable solution for roofing products."
As a leading manufacturer in North America, the company is uniquely positioned to extend the impact of this innovation across manufacturing facilities to help reduce landfill waste and continue to offer more sustainable roofing options to its customers.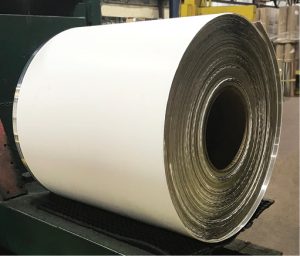 DuPont™ Launches Tedlar® Film for Metal Lamination in North America
and the Caribbean
DuPont recently announced it has introduced a new DuPont™ Tedlar® polyvinyl fluoride (PVF) film for laminating metal roofing and building wall panels. The new product will be sold by Titan Steel and its affiliated company, Metal Alliance, in the North American and Caribbean markets.
Resistance to harsh chemicals and corrosion are two key attributes of Tedlar®-laminated metal. This means that roofing and metal panels laminated with Tedlar® film provide greater resistance to corrosion from seawater and salt spray, even as close as 1,500 feet from the ocean. These features, combined with resistance to fading, chalking, cracking, and blistering caused by UV exposure, plus unmatched pliability, round out an overall robust product for commercial and residential applications alike. With no coastal waterway restrictions, Tedlar® film provides a powerful solution to the metal roofing and wall panel industry.
"The use of Tedlar® film laminated to metal has been proven on projects in building and construction markets in Europe and Japan for decades, so it was only natural to expand the product offering to other areas of the globe, working with our partners Titan Steel and Metal Alliance in North America," said Fallyn Flaherty-Earp, Global Marketing Manager, DuPont™ Tedlar®.
"Titan Steel is very excited to be partnering with DuPont™ and Metal Alliance in launching DuPont™ Tedlar® laminated metal for exterior wall and roofing panels in North America. The Tedlar® product represents a functional increase in durability and weatherability. We see its superior fade and corrosion resistance as an excellent fit for residential and commercial coastal applications," said Drew Munera, Director of Technical Sales at Titan Steel.
Tara Faulkner, Business Development Manager at Metal Alliance, added, "In the increasingly commoditized metal panel industry, it's not often we have a chance to offer something new. That's why we're excited to work with DuPont™ to introduce Tedlar® film for metal panel roofing and wall panels. Its track record of delivering superior protection to metal and other essential surfaces around the world is setting a new standard for metal panel performance that architects, contractors, and consumers will greatly value."
From the Incheon Basketball Hall in South Korea to the Komoro Train Station in Nagano, Japan, the Okinawa Thermal Power Plant, built within 1,500 feet of the sea, and the iconic Pullman Hotel in Paris, France, Tedlar® PVF film laminated to metal surfaces can be found all around the world.
Atlas' State-of-the-Art Shingle Laminating Line
Atlas Roofing Corporation recently announced it will build a new shingle laminating line at its Ardmore, Oklahoma, facility. Construction is scheduled to begin in the first quarter of 2021 with an anticipated startup in the fourth quarter of 2021. Current Ardmore production will continue while the new line is completed.
"The Ardmore facility and its people are a big part of Atlas and our history," said Mike McCaig, Vice President of Operations for the Atlas Shingles and Underlayment Division. "We have a great team at Ardmore and building a new line at this site will help make it competitive for many years to come."
The new laminating line will create a significant increase in Atlas' overall laminate shingle capacity and will create efficiencies throughout the plant to help increase overall throughput. The existing facility has been operating since 1960 and technology in the production of asphalt shingles has changed significantly since then.